Some may think being a junker type that I buy very little. Supply wise, that is true! However in order to mount, tweak or build anything, tools and a work area are an absolute MUST.
So what do you do if you need tools, but you don't know what to get? And how much work area does one REALLY need?
Here is my own no frills must have list…
Cordless drill
If you could only afford ONE tool, this would be the one I'd say to splurge on. I have a Makita which I adore. It's smaller scale and fits a woman's hand like a glove. I also have a larger Panasonic which really has great power, but I find the Makita just as good. Here's my guide… if you need two hands to hold something up, try and find something a little lighter weight yet is still a quality choice.
Cordless drills come two ways… with or without a chuck. I recommend to get a 2 pack so you have one of each. They are cheaper this way, as well as you'll have one set up to predrill holes and the other to do the building with. MUCH quicker than changing out the bits constantly.
* a chuck requires a twisting motion to replace the bits – offers more options such as speed options and strength
* a non chuck has you changing out bits effortlessly – easier to use, not quite as powerful
Portable Cordless drill tool kit
I adore my Makita cordless drill bit kit. What I love about it is the fact that you don't have to go digging around for what you need. It's like a purse of sorts. Everything is intact and promise me, you won't need much more for the average build than what's in this kit.
The screwdriver bits come in different lengths, which is handy, but I admit to grabbing the long ones first. So if you find a kit with just the long, you won't miss the short.
Compound miter saw
If you only could have one saw, this would be the one. I love the fact that the saw sits on the table for stability vs holding a saw in mid air, having to balance the weight and the cut. A table top miter saw is the safest way to go, or at least to start with.
Hand held palm sander
There are two types you can choose from… the clamp on variety or the orbital (velcro type). I like both for different reasons. I find the orbital easier to change but like the motion of the clamp on better. I like having both on hand.
Toolbox for just screws
How to build this toolbox HERE
Before I whipped up this toolbox especially for holding screws, I use to lug boxes around with me. The boxes contained bags of screws. It was rather messy to weed through. This is better. I can see at a glance which screws I'm running short on in order to restock too. I use this kit for my most commonly used screws I can't live without. (prefer the drywall variety, even for wood)
Workspace
You need a place to work. I do most of my work in an overstuffed single car garage. It isn't ideal by a LONG shot! But what I do to compensate for that is work outside whenever the weather allows. I actually prefer outdoors anyway.
The trick to making working outdoors is to have a portable table of some sort. I found this beauty at a thrift store for $10! But two sawhorses and a few planks will do the same thing. Just create a workspace you're comfortable working in and your'e ready to roll.
And here's my good 'ol single car garage. It is nothing fancy. I have two Costco tables lined up on one side and the junk is all on the other. I did replace the garage doors with ones having windows and insulation, and also installed a baseboard heater and additional lighting. I do my cutting in the garage, but pull the builds outside when possible. Outdoors is dust free, and the lighting's a whole lot better for photography.
My dream is to build a buliding section onto the back of the house with LOTS of tall windows, or just a separate barn styled shed out back. We shall see!
Good hearing protection
Don't scrimp too much here, mine are around $45 and find them AMAZING. Cheaper doesn't cut the sound nearly as well.
Other good basic tools / things to have:
Hammers. (I like having a few on hand because I keep losing them)
Jigsaw. (free hand cuts)
Tablesaw. (long straight cuts for big stuff)
Tape measures.
Straight edges.
Good eye protection – purchase more than one. It's a pain looking through hazy glasses… they get scratched and cloudy with time.
A decent dust mask – you get what you pay for here. Better ones offer more protection and a better fit.
Good hand protection – when I work with reclaimed wood, I wear those rubber dipped gloves.
Clamps – holds wood in place.
Worktables – I use fold up Costco ones inside the garage.
Workmate – portable / collapsible worktable that is geared for easy clamping.
Good practices:
Wear tighter fitting clothing.
Tie long hair back.
Get help if you don't know how to use a tool.
Practice before doing the actual work.
Work outside when you can – less dust to breathe in.
If you don't know which brands of tools to get, I suggest to borrow from a friend to get a feel for what you might like. Or go into a store and hold what you desire to have. Make sure it's comfortable in your hands and it offers all the options you're after.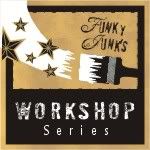 Creating Your Own Workshop – series HERE
For those that have followed my blog for a LONG time, you may also remember the Creating Your Own Workshop (with Miss Mustard Seed) I did many moons ago on this topic. Lots of good tips in that thread.
Tool collecting takes time. Purchase as you need, and in no time you'll have a workshop anyone would be jealous of.
Which tools are on your own wish list?