Wow! I think you'll all agree, some major inspiration moved in this past weekend during the Saturday Nite Special Vignette Link Party! Thank-you so very much for all that participated! You made Saturday Nite Special a top notch event!
You all deserved to be featured, so keep watching in the sidebar feature, Today's Hot Find. You may be next. 🙂 And now I bring you some wonderful highlights that caught my curious eye… enjoy!
1. Mustard Seed Creations – striking shapes
2. Our Suburban Cottage's stunning simplicity
3. Dragonflys and Star's cool rustic stool
4. Uniqueness abounds at Northern Cottage
5. Vintage Junkie's awesome cloche
6. Peace Love Sweater's vintage toyroom
7. Recaptured Charm's vanity top – you'll be in love
8. Gail's Decorative Touch's exquisite dining room table setting
9. Starshine Chic's amazing Halloween spread
10. Twice Remembered's stunning kitchen staging
11. Make Mine Beautiful – you'll be in awe
12. Cottage Instinct's ultra creative party decorating
I just don't want to stop highlighting!!! So many different takes on the same subject. They all deserve a win!
And the winner? Please tune in later this week for the feature!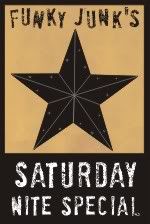 And tune in next Saturday/Sunday, for the next party. Theme – anything goes! Winner gets a feature! More on Sat Nite Special HERE.