We as homeowners, are always running around cleaning up our 'stuff'. Seeing socks strewn down the hallway or towels on the floor, is given 'stuff' that we don't want to see and feel better when it's out of sight.
But then there's the stuff we DO want to see. Our pretty stuff.
I've long thought I was abit of a packrat. Not in the decor sense though. I've always enjoyed putting out just enough to make me smile, but then the overflow, I never had the courage to give it all up. You know the stuff I'm talking about.
I tried when I moved. I got rid of lots of stuff as I was attempting to utilize every square inch in this home at one point. No boxes in sight was my ultimate goal! Loads of stuff got stuffed into garbage bags and taken to the local thrifts. But how many times did I go through those bags before they left the curb… countless. The bags were always smaller going out than my original intent.
Now know, I'm talking about an era before I knew I wanted to decorate. Wasn't decorating something everyone just did because they wanted their home their own? Thinking that way, I felt discouraged knowing I had too many boxes taking up realestate. Onlookers would wonder why why why would I hold onto so much.
But now I know why.
Staging my home for this Christmas show requires stuff. And a whole lot of it. What pops into my head, I wish to see it on display, for I know it would look wonderful! However, that hasn't transpired this round. I've been making do with what I had on hand. Decorating in this manner is alot tougher than going out and simply picking up what you think would be perfect for THAT spot. You have to make it work. And that alone pushes your creativity off the map (not a bad thing) but stalls you timewise (that part bad).
Knowing I'll be having other town wide open houses and shows has brought new perspective on my collecting methods. I'll now watch for that perfect wintery coat for the front entry. Or that perfect seasonal throw blanket that would soften the edges of the sofa.
Now I know, my stuff is no longer simply stuff. People, we are talking business here! Those boxes upon piles of other boxes is now known as, 'staging accessories.' And they're a must!
I used to stress everytime I walked into my basement looking for 'that' thing. Now I maze my way through the riff raff with a smile on my face. Although I don't like all that stuff in my way, it serves a much different purpose. This 'stuff' indeed has a place in this home. And now I have to find a good place for it to call home.
My buddy Dan told me one time my garage is a 'workshop', where I make things, so it's allowed to be disorganized and messy, because it's being used on a constant basis. That allowed me to think differently. Rather than quickly clean up every square inch of sawdust and put all the saws back in their cases, I now proudly have tables set out allowing for immediate use. WAY more productive!
Much like my workshop, part of my basement will indeed need to turn into my staging storage. I'm excited to report I cannnot WAIT until things are neatly stored on shelves so I can grab and run. (and walk)
So my dear decorating friends, the next time someone raises an eyebrow at your storgage area, think differently than they do. It's simply FREE stuff to change out your house now and again. If you decorate, you are a stager. No different than tools stored in the garage! How do you like that theory?!?
How about you? Are you simply storing, or do you use your stuff? And more importantly, where are you putting it?!? … help…
And don't forget about our weekend party. It's still on starting Fri nite! Theme is always anything goes…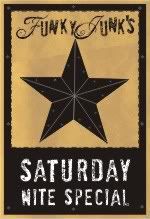 … so hope to see you there!