So who's all in with that title?!? (crickets) The theme is anything goes as always! So please don't run away quite yet. I have reasons for my (lack of) sanity. 🙂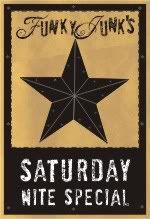 If you're new here, kick off your shoes and join in! This weekend's theme is anything goes, so feel free to post a project of yours, past or present that you're proud of so we can clap along with you!
Party starts at Fri night and ends Sunday 11pm, so you have all weekend to join!
I LOVE to highlight inspiring posts, so make sure you check back after the party to see if your blog is in lights. 🙂 And I have some exciting news for you… starting next weekend,  I have quite a nice lineup of giveaways starting up, so make sure you work hard next week so you have something to link up again. 🙂
Alrighty then! Oh, everyone and their dog will be excited about this tutorial! Ready? You're going to learn … (this is my alltime fav subject!)….
HOW TO CUT METAL CLAD SIDING.
Yessiree, only here on Funky Junk Interiors, will you learn such a diverse education! Let us begin.
Why would you want to cut metal you ask? Well, that's easy! If you desire…
… metal clad siding backed armoires…
… or a painted metal clad siding enhanced headboard, this is so the lesson for you!
What to do
1. The right gear.
Grinders
My buddy Dan loaned me his two grinders. One is housed with a cutting disc, and the other… I can't remember the right term… sanding disc? You don't NEED two grinders, but it's helpful if you do so you don't have to change the blades back and forth.
Leather gloves
Grinders are dangerous and metal is sharp, so leather gloves are a must. Longer ones reaching up your arm are best.
Safetly Glasses
You don't want to risk your eyes, so play it safe.
Hearing Protection
I can't remember if I wore them at this time, but it's a good idea to do that. Get the type that look like old style headphones. And get good ones. Mine were around $45 and worth every single dime. I have others that are cheap and there's no comparison.
Tie back your hair
My hair is long so when I work, it's always tied back. Allow me to show you what all the chick metal cutters are wearing this season…
Yes, you too can look this good. I'm also doning my 20 yr old Y&R t-shirt. (I've met a few of the cast back in the day but that's another story) Nothing spells hotter than this! (yes those are safety glasses overtop my reading glasses. D.O.R.K… actually, you can now get safety glasses with built in reading lenses, so I'll be on the lookout. Two sets of glasses are uncomfortable.)
2. Metal, preferrably abit rusty for that chic warm against cool theory of course.
– measure it up
3. Get ready to cut by elevating the metal.
I was taught to elevate the metal abit simply by placing a 2×4 down first on the ground. BEST advice ever!
4. Just Cut It.
It's a little scary at first, but once you know what to expect, it cuts like butter with a good blade. Look how straight that is. Done totally free hand by following my line. The sparks this makes are soooo perdy.
Most grinders come with a safety guard. I've used one with and these without, and I have to tell you I much prefer the ones without. You can simply do more with them. You just have to be more careful.
5. File it
Go over the cut edge with the sanding disc. Metal is super sharp and you want to dull those edges.
Now that you know this wealth of knowledge, I totally expect all (one? none??) of you to go forth and cut you some!
Seriously, knowing how to cut substrates of all different mediums simply builds up your card file of knowledge in order to create things. Every day I learn something new like this, I have to go right out and do it again. I'll be downright dangerous when I know it all.
There are other ways to cut metal as well. HERE is the post where I cut down steel rods with a chop saw. I've since also cut down metal rods with one of these grinders too, so they come in mighty handy if you don't have a chop saw handy.
Do you like tutorials on stuff like this? Learning new things rather than simply viewing show and tells? I have some exciting news on a new series starting, so be on the lookout for that announcement in the very soon upcoming future. 🙂
Ok, on to the party! A few rules…
1. Please link up to your post, not your blog. (post, then click on your title and cut that url)
2. Please put a link in your post that leads back to the party so others can see what's up!
3. I'd like to suggest putting in your blog title and project description.  ie: Funky Junk Interiors – how to cut metal. As the numbers grow in the party, this info is helpful for those seeking certain types of posts, hence, you will get more hits!
4. This party is geared for DIY type projects we can all attempt to make ourselves. Items for sale may be listed IF they are made by you and include a tutorial or attempting to make them is self explanatory. For advertising rates, please inquire at [email protected]. Thanks!
Happy weekend inspiration to all!