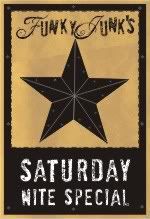 Welcome to Saturday Nite Special #15!
If you're new here, kick off your shoes and join in! The theme is always a *DIY themed anything goes, so feel free to post your project, past or present that you're proud of so we can share your moment with you!
Party starts at Fri night and ends Sunday 11pm, so you have all weekend to join.
I LOVE to highlight inspiring posts, so make sure you check the sidebar while the party is in full swing. You may be next. 🙂
This weekend we're ending the 1000 Followers Event Giveaways with *Sunday Jan 31 being the last day.
(*giveaways extended 1 more day to work with SNS) 
So if you haven't yet, HERE is the best place to throw your name in each of the 7 draws before then. I cannot wait to deem the winners!
(winners to be announced early next week)
How about we kick this party off right with some SNS#14 inspiration?
Most of you know my passion is thinking outside of the DIY box. Is this real rust, AMY?!?!? EEEEE!
CLEVER flower arrangements. This last one is so outside of the box I gasped! A great shot, by The Lemon Cottage.
This is one of the coolest projects ever and something I really want to try for my own fireplace, or for a clock face. A Ballard knockoff that sent me into a frenzy! Full tutorial and place to download this print by  No Minimalist Here.
Take a good hard look at this image. You will NEVER believe what that side hutch is made from. Never. You walk by them in thrifts with your nose in the air all the time. Now you won't! The Little Brown House, this is brilliant! And gorgeous too.
This is SO COOL. It's a zipper bracelet. With a tutorial to boot. A bracelet with EDGE. LOVE this, Craftaholics Anonymous. 
There isn't anything this girl does that I don't adore. And this hutch is no exception. Flea Market Trixie, you amaze me. Look at those lines!
This side table created from a shipping crate flat out got me the moment I laid eyes on it. Loaded with rustic charm, by Whisper Wood Cottage.
Aren't these crazy?!?!??
SNS blah blah linkup rules –
1. Please help keep this a DIY themed party.  Tutorials get bonus points. 🙂 Items linked for sales only intent will be removed. Sorry.
2. Please link up your intended post, not your blog home page. (post, then click on title of your post, cut and paste that url)
3. Please put a link in your post that leads back to the party so others can see what's up! (scroll button on sidebar if you wish)
Did your link disappear? No prob! Please reread the rules and try again!
Go ahead. Try and blow me away. I'm ready. 🙂