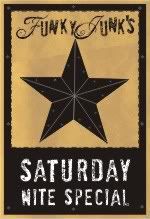 Intro
Welcome to Saturday Nite Special #23!
If you're new here, kick off your shoes and join in! The theme is always a  DIY themed anything goes, so feel free to post your project that you're proud of so we can clap along with you!
Party starts at Fri night and ends Sunday 11pm, so you have all weekend to join.
I LOVE to highlight inspiring posts during the event on the sidebar, so make sure you check in several times over the weekend. You may be next. 🙂
~ This weekend's DIY Feature ~
Rustic laundry room
One of my very favorite things to do is find a hidden jewel in blogland. And I believe I have one for you right here. Meet Sausha from Show & Tell.
And this is Sausha's amazing rustic laundryroom.
Here's the before. I didn't even notice the great shelf and same cupboards in the before until now. Goes to show you, a great after brings out the best in everything around it!
This room entirely inspires me! I am adoring that black shelf that runs the entire width of the room. It frames the cool old gate so nicely! Black cabs anchor the room with some good visual weight, but it's so not overdone. This is a great balance of lights and darks.
Isn't this piece amazing? It's an old gate that use to be red. Sausha simply painted white over it and distressed the edges bringing out the red tones. It's the perfect backdrop for that amazing wreath. Don't you adore the unexpected art aspect of it?
These risers were built to create a place to stash the laundry. I've seen the risers you can purchase, but this idea by far makes way more sense! Size them perfectly for your laundry baskets and you never have to trip over those things again. Brilliant idea.
An unexpected surprise is the green ladder. It's originally from Sausha's grandma's barn so there's some special meaning linked to it. I love useful pieces like that. And this little lady looks right at home against that wonderful beadboard wall.
Did you notice the light?!? This room is delightfully, simply perfect. 🙂
Laundry rooms tend to be forgotten and rather ignored. I know mine is. 🙁 But this showing is total proof that this workhorse of a room can too go out in high style. I'm sooo motivated to get going on mine! Between Patina White's laundry room and this one… my goodness. No more excuses!
Thanks Sausha for giving us some amazing laundry room eye candy this weekend. 🙂
Sausha's blog is brand new as of Feb 2010. Snoop around. She's been featured here before in the SNS highlights. She's gonna be a good one. 🙂
How about you? Is your laundry room last on your list too? Why do we DO that?!?
~ Now, for something new! ~
 SNS is continuing to grow! I'm thrilled you've come to find this little local yokel Canadian blog party to be one of your favs! With the growth in mind, I'd like to give this new idea a trial run.
I've created two MckLinkys for this weekend.
One is for
Home Decor
junk to jewel transformations, rooms, renos, gardening, misc.
and the other is for
Crafts, Sewing and Cooking
crafting from new supplies, sewing, and recipes
As blog parties grow, they tend to lose abit of their intimacy. You've all been so awesome at leaving comments and I hope that never diminishes. So by separating the DIY's into the 2 categories, it's my hope that you'll be able to better seek out the types of linkups you yourself prefer, so your stay is as enjoyable as possible. Uncertain where your entry belongs? Choose one and go with it. We'll figure out nitty gritty details after the test run.

The two MckLinkys will be well labeled below. Please let me know in comments your thoughts on this idea as the trial progresses. I'd love your feedback!
~  Blah blah linkup rules ~
1. Please link up your intended  post, not your main blog url. (post, then click on title of your post, cut and paste that url)
2. Please put a link in your post that leads back to the party so others can see what's up! (scroll button on sidebar if you wish)
3. I've allowed 100 characters in the link title area, so go ahead and tell us you blog name AND project description. There's room. 🙂
*4. This party is geared for *DIY type projects we can all attempt to make ourselves. Items for sale may be linked up IF your entry is posted on your blog and in tutorial style (unless making the item is self explanatory).
Happy weekend, all!
(these party linkups are no longer available as they are with a different service I'm no longer affiliated with)