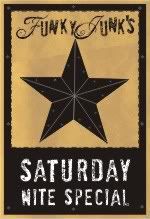 Intro
Welcome to Saturday Nite Special #27!
If you're new here, kick off your shoes and join in! The theme is always a  DIY themed anything goes, so feel free to post your project, that's new to SNS, that you're proud of so we can clap along with you!
Party starts at Fri night and ends Sunday 11pm, so you have all weekend to join.
I LOVE to highlight inspiring posts during the event on the sidebar, so make sure you check in several times over the weekend. You may be next. 🙂
~ Spotlight Feature from SNS 26 ~
A dream studio
I totally dream of having a workshop in my backyard one day. Honestly, you just can't do a whole lot in a single car garage if you also store your bikes, air compressor, power washer, blah blah blah in the same space."
Did you happen to see this SNS entry last weekend?* Please enter your chosen DIY once in one of the below parties. No duplicates in both linkups please. Not sure where yours goes? Pick one and run with it! 🙂
This, my envious non studio friends, is a studio out in the back of Ann Marie's home. A STUDIO. A separate building from the house. To do your thang in. Isn't this adorable?!?
Ann Marie's blog is called La Maison La Fortune and you can find her studio post HERE.
They picked a spot in the back yard, and got right to work.
They did the work themselves, bit by bit. I can just about smell that fresh pine being cut. And don't you love that sound of wood being cut?!? You KNOW what I mean, right??? If you don't, I guarantee, have something brand new built and you'll feel it pretty fast.
Oh my, it's adorable already. They got to the roof at this stage and hired help from thereon.
I am just in LOVE with those tall windows.
*sob* Goodness this is charming!
Have a good look at the pathway and rock trim around the garden permiter. So cottage sweet! I'm also adoring the soft hues of the colour scheme. The tall shutters are just adorable with the equally tall windows. And two rocking chairs on the little porch?!? Looks like coffee time to me!
Ann Marie uses her studio for her custom linens business, and promises to show the interior once she's got that on the swing. Right now she's still playing with the layout and such. So Miss Ann Marie, we're all watching you now. 🙂 Can't wait to see what you have in store!
I did find a post with a sneak peek to the colours that'll be used inside. Ohhhh such a tease!
My dream studio/workshop would be just like this, but probably with double barn style doors so I could swing them wide open while I worked. My studio would be for the sawing wood variety no doubt. Or maybe I'd decorate it to display my furniture line to sell. When I make my furniture line, that is.  Oh gosh. I want it yesterday now. BAD. Ann Marie, whatever have you done to me??
1. Please link up your intended  post, NOT your blog. (post, then click on title of your post, cut and paste that url)
2. Please put a link in your post that leads back to the party so others can see what's up! (scroll button on sidebar if you wish)
 3. This party is geared for DIY type projects we can all attempt to make ourselves. Items for sale may be linked up IF your entry is posted on your blog and in tutorial style (unless making the item is self explanatory).
5. Please link projects up that are new to SNS.
Happy party and weekend inspiration to all!