Welcome to the 2000 Followers Event Draw #4!
Thanks for helping me celebrate what I consider a major landmark. That there are at least 2000 of you that think this little blog is worthy of a visit THRILLS me! Watch the blogroll over the next few days. You'll see lots of festive happenings around here.
Games! Food! Presents! We have it all! 
So let's start this party already!!
~ Games ~
What's YOUR project?
Today we are celebrating the fact that today's giveaway sponsor 'invented' the giveaway. 🙂
I can actually name quite a few blogs that are 'famous' for a given project of theirs.
One of my own examples would be what I call my wooden crate stairs. 🙂
Creating something new and 'uniquely yours' is scary ground to cover! But look at the rewards when you achieve it!
Now before you throw up your arms and exclaim, "I don't rate in this category! I've never invented anything!", I want to point out that I think that's wrong. There HAS been something you've created that has been uniquely you. Perhaps it wasn't a world first, but that doesn't matter. You did something special to your project to make it 'yours' that was different from everyone else's.
What did YOU make that you consider to be 'your own creation?'
Please include this comment in the same post as your giveaway choice option below. If you have a link of your project, feel free to include it with your comment as well. We'd love to see it. 🙂
~ Food ~
I love flowers, I love marshmallows and I love cupcakes. Put them together and you get…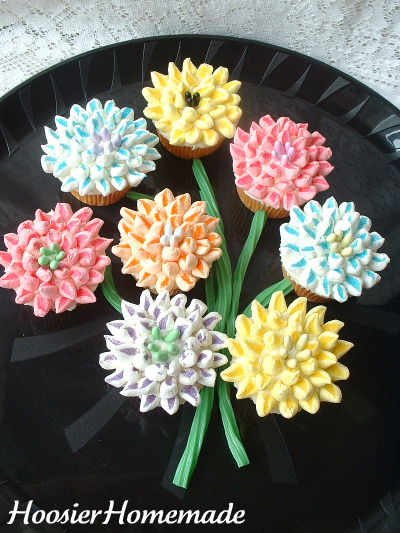 Oh my… These beautiful cupcakes don't even look like cupcakes! The link below even includes a video on how to do this. Aren't they beautiful? By Hoosier Homemade from SNS #29.
~ Presents ~
We have a new invention in our midst today. 🙂
Todays' giveaway sponsor, Missy from The Little Green Bean has been busy INVENTING her own purse design.
Meet 'Pockets and Posies'. 🙂 Can you scream ADORABLE?!? Check out those two pockets on the outside, scooped like a pair of jeans! So cool and useful!
The purse is adorned with a flower pin that can be removed. There is also a magnetic snap to keep the purse closed making it a breeze to get into. Totally unique, bright and cheerful, and pockets galore, I rate this design a big winner! The value of this sweet purse is $35.00.
Not a flower kinda gal? Gotcha covered too!
Missy has a choice for the gal that prefers rustic over florals. She is big on recycling and loves to use coffee bean bags for many of her creations so… hmmm… could this be one of them??? You'll find out soon. 🙂
Missy is one of the most creative gals I know of. I've followed her for a very long time and she's always whipping up something brand new. Her ETSY STORE is brimming full of brand new and innovative creations all the time. So even if you don't win this round, I guarantee you'll find an awesome replacement in the store.
You will also enjoy Missy's blog. She likes to show you her newest creations when they come hot off the press. Her blog also displays her fun sense of decorating. She's a junk to jewel kinda gal like me, so I really get her style. 🙂  
 Missy has a 1 click post waiting for you so you can run on over and choose your own personal purse or tote choice!
Thanks for the awesome giveaway, Missy!
~ How to enter the draw ~
1. Please visit Missy's blog HERE.
2. Select which item (purse or tote) you'd like it you won.
3. Come back here to comments and let us know which one you simply must have!
In the same comment, please share your own specialty project! (if you desire)
Want more chances?
Follower or subscriber of Funky Junk? Enter again!
Follower or subscriber of today's sponsor? Enter again!
Twitter, Facebook or blog about the draw? Enter for each one!
That makes up to 6 chances to win!
Draw will be held by random.org at the end of all the draws held.
Your email must be in either your profile or comment area in order to win.
Happy purse/tote pickin' day. 🙂
and…
~ The clay pot party is Tuesday! See ya there! ~