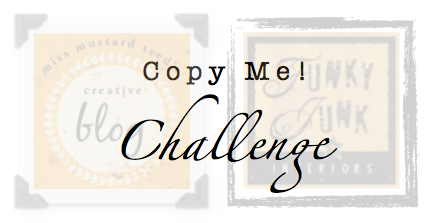 It's finally here! The official Copy Me! Challenge linkup, FJI style. 🙂
 
This is your time to shine with your own version of my salvaged junk decor style!
How to play?
Simply link up a post that you feel emulates my decor style, and you're in! Your linkup may be an older post as well.
How does one win?
 I will be selecting what I consider the top 5 entries that I feel resemble my style the most accurately, then Miss Mustard Seed will deem who the winner is!
What's up for grabs?
The winner gets to customize their own Funky Junk styled prize. 🙂 Now… what could that consist of?
Sign?
Perhaps it could be a similar version of a custom sign….
 Custom kit?
And then there's always a custom kit I can create for you so you can stencil something in a much grander scale on your own…
Junk grab bag?
Maybe you'd enjoy a collection of carefully chosen vintage style junk that I'll surprise you with?
So many options. 🙂
I'll be chit chatting with the winner and asking what they desire to have for their own space, so the win is custom made for them.
Link Rules
1. Feel free to link up a new or past post you feel emulates my style.
2. Please ensure your linkup is for the Copy Me Challenge and not general SNS type linkups.  If you notice your linkup removed, please relink next weekend when SNS returns. 
3. Please link up back to the party so others can see what you're up to!
4.  MMS and FJI  are two separate parties. If using the button below, please make sure you use the right one for the right party, as they are coded differently.
Linkups will be open for one week and a winner will be deemed soon after.

Good luck and have a blast! 
Can't wait to see what you came up with. 🙂
Did you create a Miss Mustard Seed style project as well? 
Head on over there to link that one up too!