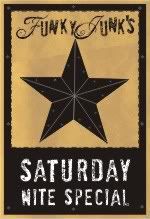 Welcome to Saturday Nite Special #99, the multi themed link party! 
* Home Decor
 * Crafts, / Sewing / Recipes
* Theme of the week
Every Fri 7pm  to Sunday 11 pm Pacific.
~ the ultimate repurposes ~
I LOVE to repurpose!
And most of my projects (main link HERE) are all about that.
But you've seen all my stuff.
Right?
I wouldn't want to bore you.
Or anything.
(all of the above projects can be found HERE)
So today I'm going to take you for a tour of an FJI follower that has this theme down!
Meet Jane over from Mamie Jane's. I've been following her projects for a good long while now and her stuff (and photography) never cease to amaze me.  Here are a few of her repurposes…
yardstick tray
( URGENT. NEED. NOW )
yardstick stars
( oh my how I love thee/s )
record rack platter holder
( stinkin' brilliant! )
yardstick sewing trim storage
( holey moley that looks cool )
strainer jewelry holder AND jewelry
( metal… this one hurts, want it ALL )
creamer pin cushion
( geez that's cute! )
old window display shelf
( love the shaving brush collection! who'da thunk it )
All you have to do is land on her home page and keep hitting 'older posts' because I assure you, you won't want to miss a single one!
LOVE your work Jane!






Want more? Click above to view my pinterest ultimate repurpose collection.

What would you consider your ultimate repurpose?
Link it up in this weekend's 3rd themed linkup!
~ next weekend's theme: ~
pallet projects


Made anything cool with a pallet or pallet boards? Bring it over next weekend!


and click here for the last voting poll results
Click HERE for the master themed linkups list. Add yours anytime!
~ SNS blah blah linkup rules ~
 1. DIY home projects only pretty please. Items for sale must be in tutorial form on your blog.
2. Please link back to the party (text or button) within your post. See BUTTONS under main blog header.
3. Only projects new to SNS please. The themed linkup is an exception.
4. By linking up here, you're cool with me featuring you with no additional permission required. Cuz I wanna make you a star. 🙂
Party highlights will be shared on FJI Facebook this weekend so come on over and see if we're talkin' about you. 🙂