This giveaway is now closed. Winner is April from Thoughtful Escapes. 
Congrats April and thanks to all who entered!
Don't I look calm, happy and deliriously content?
You see,  I've been waiting for this package.
So when it finally arrived at the post office, I barely made it out the door when I dashed the box onto the sidewalk and stabbed it open with a pen.
The pen didn't make it, but the goods did. Ohhhh boy did they…
My newest treasures came from
 Katie's Rose Cottage Designs run by Lori.
Did you just gasp?  Wait till you take a peek inside her store…
How did I miss this… *sob*
These jars go for $10 @ in my area. Great deal!!
Downright painful.
I swear this wasn't there before… um… Lori…
The down ruffle pillow with tattered rose
So when I saw this ruffled beauty, I had to have it. It was a matter of life or death.
And I have to tell you, this pillow is AMPLE. It's big, beautiful and doesn't come as just the case. It's filled with DOWN so you get that amazing down 'crunch' sound when you squeeze it.
The material is lightweight, has a slight shabby crinkle and the ruffles and flower holds beautifully.
The pillow is my new teddy bear of sorts. I carry it around all over the place and plunk it down so I can just LOOK at it. It goes everywhere!  Bet it would be decadent in my bedroom too but…
The farmhouse metal basket
… my bed wasn't made. (never is)
No worries, my fabulous metal basket resides in my bedroom for all my girlie things.
And how cool… the little pots come out so you can do other things with them too!
It's gorgeous. I love the patina, the scrolly metal, the wooden detail on the handle… and ran around the house with all these ideas for it. But I really loved it in my bedroom. For now. 🙂 (I reserve the right to change it out on a whim) 
Although the tote appears lightweight, it's actually pretty strong! Gotta love metal.
The tattered rose black hat
Wait! Did you see my hat?!?
After I placed my order, I was wishing I included the hat. It actually kept me awake at night. So I did the right thing and got the hat too. I need my sleep, right?!?
The hat is to die for. It wears slightly frayed edges with a tattered rose which is girled right up again with a sparkly jewel flower. I no longer wear earrings nor rings so this replaces that bling in a unique way, wouldn't you agree?
The hat is thick and durable and comes in a one size fits all with elastic in the back which provided a good snug fit on me. But I tend to wear them loose and floppy (I'm farmer jacket material here) so I just took the scissors to the elastic, did a tiny little snip and BAM it was perfecto!
While it's tempting to remove the flower  so you can play with it elsewhere, it would flop around if it were just pinned, so it's PERFECT.
Customer Service
Lori is a DOLL. She's an avid follower of FJI, leaves delightful comments ALL the time and is forever cheerful, and a sweetheart to deal with. LOVE this girl so it's a complete privilege to work with her!
So… wanna go shopping?
Go on and spend
$60!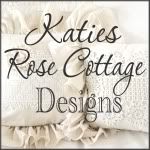 ~ How to enter the giveaway ~
Visit Katie's Rose Cottage Designs HERE,  snoop around, tell me in FJI's comments what you'd like if you won and you're in!
Facebook, tweet or blog about the giveaway and comment to enter again!
(worth 1 additional entry)
Giveaway is open for 1 week. Winners must have email  active on their blog or with their comment.
Valid in USA and Oh Canada. (thanks Lori!!)
(I received the goods in exchange for this review. And fell in love. What can I say…)
*crunch*
Squeal!!
This giveaway is now closed. Winner is April from Thoughtful Escapes. 
Congrats April and thanks to all who entered!