I'm always caught offguard when my mom says, "You have a way with grouping things." That's when I look around and think, "Huh?"
I totally have this thing for creating layers upon layers when arranging vignettes. It always surprises me when someone says something to draw attention to them because they are simply the norm here. Lotsa layers. It just makes for rather interesting second takes when you glance at something that is 'built up', as opposed to just sitting there all by it's lonesome.
Here's a good example. Nesting things creates more texture with a chance to add more of your elements you desire. In this room, I have wood, blacks and creams. Layering allowed me to pull all three elements in.
Layering also enables you to use smaller items that wouldn't work standing all on their own. Alot of features in my rooms are oversized, so therefore the vignettes require more substance. Layering also makes displays super easy to move out of your way! LOVE trays, plates and bases for this very reason.
I also like vignettes to be somewhat productive. While they're fun to look at, this one also provides a place for remotes. It's interesting, plus is functional.
Layered vignettes also have their place. This example illustrates too much in one area. I moved it for the sole purpose of better lighting for the pic, but it normally sits behind my laptop, just peeking around the corner. It's substantial, but looks great where I normally have it as it isn't in FULL display. If left here, there's abit too much going on and tends to look like I didn't put the dishes away. 🙂
This is right beside the phone in the kitchen. I'll admit, I cleaned it up for the pic. 🙂 The large plate serves as a real function and is a quick catch all to 'stuff' that doesn't find a home instantly. Keys, change, reciepts…  it looks interesting from a distance but works hard every single day. It really does have a reason to be there.
And being that it stands alone, I like the how the plate beefs it up to balance with the window behind it as well as brightening up a dark countertop. (I have a fair bit of black in the kitchen, but it isn't the first thing your eye gravitates to, which I really like.)
Tips for simple vignette building:
Try layering and bases for more substance.
Have larger ones standing alone so they get center stage.
Create productive uses for them.
Keep them on the simpler side.
How about you? Do you tend to have little things grouped together loose like, or do you compile and nest much like this?
Maybe we should throw a vignette party… Anyone up for that idea for the Saturday Nite Special this weekend??? Now that you have some shiny new tips, you have time to experiment. Hmmm…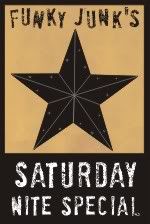 UPDATE: So, let's try a vignette party this weekend, shall we??? Your wish is my command! Grab your talent and your cameras and have fun! Create new or dig for the old,  load the button (or text in a link back to the party within your post), be a follower so you have a chance to be featured the following week, and see you Sat!