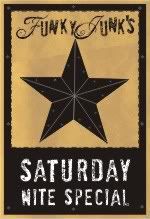 Welcome to the 3rd edition of Saturday Nite Special!
If you're new here, kick off your shoes and join in! This weekend's theme is anything goes. Any project that you've worked on past or present that you feel you'd like to share, please do so! The post that most inspires me in some way will be deemed a winner and will win a feature of her blog! Party shuts down by Sunday midnight.
On with the show! I wanted to post a project of mine, but Picasa was PMSing today, so we parted ways. So instead, I've found a couple cool features to show you.
It's all about metal!
Isn't this a hoot?!? Junk Sophisticate's friend found a giant wisk and inspired by another, changed it into a light fixture! This one would have me smiling big all day long. 🙂
Ever hear of a gear lamp before? Well now you have! WhisperWood Cottage's hubby created this one, and…
…. this one! Hard to make out in this pic, but in the next…
… there's even a place for the cell phone. Heehee! Love it!
This is so cool. This is a necklace. The Red Door Antiques picked this little baby up in Texas at a show. She says, "This is sooooo awesome and fits me to the T. I love the dial on the inside with the days of the week on it….it is classic me….all the days just run together…so how fitting for me."
And here's a few from my own camp.
The hilarious canning jar lid wreath that hangs on my character building outside. And I'm happy to report, it's way more rustier now than this pic. That's a good thing. 🙂
My own kitchen island has a metal topper.
I designed the shape with radius corners and soft curves. It's also designed to sit at from both sides. My buddy Dan fabricated it for me. It's a workhorse and incredibly unique!
And then there's my fab stair rail put in just lately. I used 5/8 steel rods for the spindles I cut down myself on buddy Dan's chopsaw. The final look is 'traditional industrial.' Yeah, that's it. I LOVE the outcome and again, pretty original as the spindles show black, steel, and abit of rust.
These are massive metal corbels on my fireplace. They were fabricated to slip overtop the exsisting brick ones.
And here's moi hugging my rusty metal clad siding I used on a project on this week. That I wanted to show you. That isn't posted. Because of Picasa! BLEAH! Fate is screaming at me to load photoshop on another computer and get with the program. Ok ok I will!
Ok, nuff chitter chatter on metal. Let's party!
Rules:
1. Please link up to your post, not your home page address.
2. Please link back to this party from your post so in the future, others can find you.
If you see your post deleted, it may be because one of the two above weren't done. If it's gone, please try again!
Happy party, and Halloween!