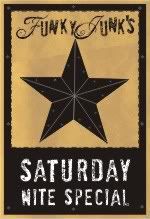 Welcome to the 6th edition of Saturday Nite Special!
If you're new here, kick off your shoes and join in! This weekend's theme is anything goes, so feel free to post a project of yours, past or present that you're proud of so we can clap along with you!
Party starts at  Fri 10pm BC Canada time and ends Sunday 11pm, so you have all weekend to join!
I LOVE to highlight inspiring posts, so make sure you check back after the party to see if your blog is in lights. 🙂
Alrighty then! To start the inspiration off, I have a small addition to my 'white trash' bedroom I've been working on.
It all started with this little bench I found on the curbside during the summer. I love the criss cross element. It's VERY shabby but super sturdy and cute.
Next I landed this incredible pedistal/barnwood table for FREE at a thrift. They were ready to huck it into their garbage bin of all things. I love how organic the top looks. Very soft/matt patina and it's the perfect fit for this little nook!
This is part of my 20 plus year old pickled pine bedroom suite. The only reason I still have it is because it's such exceptional quality. I haven't painted it yet but that's all about to change! I haven't done the armoire yet, however…
… the mirror is lookin' fine in her pristine white! I now have a nice quaint area to blowdry my hair, drop off change, etc.  The smaller antique mirror I scooped up for $15 from a thrift in the summer. I just love the soft feminine lines in the wood frame.
The mirror got  abit of distressing. Not sure if I'll glaze it, I'll wait till the armoire is painted up first to assess it all. I rather like the ultra clean light look for this room.
The new addition works really well with the rest of the bedroom. So on we go.. one small corner at a time. 🙂
Let's party! Rules are simple and same 'ol:
1. Please link up to your post, not your home page address. How-to HERE.
2. Please link back to this party from your post others can join in the fun!
I can't wait to see what you've been working on. 🙂 Happy weekend inspiration to all!