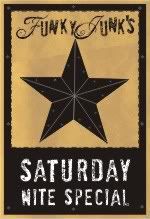 Intro
Welcome to Saturday Nite Special #30!
If you're new here, join in! There are now three categories to link to. Home Decor as well as Crafts, Sewing, Recipes, plus our new themed link! Check below for this weekend's theme.
Party starts Fri night and ends Sunday 11pm pacific, so you have all weekend to join!
I LOVE to highlight inspiring posts during the event on the sidebar, so make sure you check in several times over the weekend. You may be next. 🙂
~ This weekend's theme ~
Refurbished headboards
I have a confession. I chose the headboard category so I'd be forced to get going on this cute foot board I'm creating to sell. Unfortunately, this is how far I got… nice tools! 🙂
Ah well… it'll be adorable when it's done up the way I envision it. I'll reveal it one day! 🙂
But I have done a headboard project in the past that I am still completely and utterly in love with.
I LOVE refurbished headboards. And I fell in love with this one when I found it at the thrift. The vintage non fussy lines were just beautiful in my eyes.
After painting it white and glazing it with a medium mocha tone, I mounted it alongside some hooks from Ikea. I also painted and glazed the original hook base to match the headboard.
These thrift numbers had been a recent thrift store haul, so I put them to work.
Before.
After.
This once rather boring bathroom wall is now a fun and productive focal point. And I am in LOVE with all those hooks! (Sorry, this old photo totally needed a new photo shoot. Lookit those shadows! 🙂 )
And using authentic house numbers added abit of 3D fun!
Paint tip: I used a quality brush for painting to create brush strokes for a more vintage feel. The glaze captured the brush strokes perfectly and really does simulate someone repainting an old piece. It would not be the same result if the strokes weren't there.
Below is the themed refurbished headboard link. I can't wait to see what you've come up with. 🙂
Next week's themed linkup is …
~ Ladders! ~
Ladders aren't just for climbing anymore. Go ahead and play with a ladder and see you next weekend!
~ SNS blah blah linkup rules ~
1. Please link up your intended post, NOT your blog homepage url. (post, then click the title of your post, and cut and paste that url)
2. Please put a link in your post that leads back to the party so others can see what's up! (SNS scroll code on sidebar if you wish)
 3. This party is geared for DIY type projects we can all attempt to make ourselves. Items for sale may be linked up IF your entry is posted on your blog and in tutorial style (unless making the item is self explanatory).
5. For Home Decor and Crafts, Sewing, Cooking, please link projects up that are new to SNS and within 1 month old. The 3rd weekly themed link may have older posts and not brand new to SNS.
If you can't decide which category to enter yours in, please just pick ONE and go with it. It's all good!
Did you miss the 2000 Followers Event draws?
A sweet petite tote! (2 choices)
A custom painted grain sack!
An original painting!
A beautiful purse or coffee sack tote!
A vintage cream and sugar pincushion or ? (3 choices!)
A one of a kind vintage styled apron! (2 choices)
Enter all 6 draws until Sunday, 11pm Pacific. All draws are located on the sidebar.
Have a great weekend!