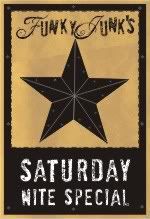 Intro
Welcome to Saturday Nite Special #38!
If you're new here, join in! There are three categories to link to. Home Decor as well as Crafts, Sewing, Recipes, plus the themed link! Check below for this weekend's theme.
Party starts Fri night and ends Sunday 11pm pacific, so you have all weekend to join!
I LOVE to highlight inspiring posts during the event on the sidebar, so make sure you check in several times over the weekend. You may be next. 🙂
~ This weekend's themed link ~

old drawers
If you haven't yet been in search for old drawers, you will after you see these ideas!
This simple yet cute idea by The Farm Chicks
 creates the perfect vintage tray to carry all your treats around with you.
… continued …
Have you checked out  Junk Market Style? If you love junk, you'll love browsing through this blog. These drool worthy drawers, by Sue Whitney, wear the most amazing patina! I'd love to create a centerpiece on a table out of that blue one.
Here's another from Junk Market Style. What a cute planter box idea! By Semper Nova.
And oh my word I fell in LOVE with this one. Chippy dresser drawers become a chippy outdoor flower display. Again, at Junk Market Style, by Sue Loves Junk. And I love Sue's junk so we're all good.
 This picture is from my kitchen office, displaying an old sewing machine drawer I used as a means of grouping the old canning jars together.
And the grand finale reason I chose drawers for this theme… drumroll please…
Someone down the road had gutted their vintage kitchen and had a massive pile of drawers on their driveway, so with their permission, I helped myself to a couple of them. And want to know what I did with them? Ready?!?
I simply stood them on their ends to take this picture, and now they're cluttering up the garage.  You like?
Some things simply don't go as planned. It's all about the pool this week, not pretty drawers apparently. Ah well. It'll be nice to see your inspiration so I can come up with something super clever for mine!
Link up your own old drawer projects in the 3rd themed linkup below and let's get this old drawer party started!
~ Upcoming themed linkups ~
rust
curb appeal
mantels
There! Now you can plan some projects so you can join in easier! I'll post them in the order you see here.
What other themes would you like to see on SNS? Let me know in comments! 
There's also a sale going on at the sponsor store.
Offer is good until Monday, so go check it out!
 ~ SNS blah blah linkup rules ~
1. Please link up your intended post, NOT your blog homepage url. (post, then click the title of your post, cut and paste that url)
2. Please put a link in your post that leads back to the party so others can see what's up! (scroll button on sidebar if you wish)
 3. This party is geared for DIY type projects we can all attempt to make ourselves. Items for sale may be linked up IF your entry is posted on your blog and in tutorial style (unless making the item is self explanatory).
5. For Home Decor and Crafts, Sewing, Cooking, please link projects up that are new to SNS and within 1 month old. The 3rd weekly themed link may have older posts and not brand new to SNS.
If you can't decide which category to enter yours in, please just pick ONE and go with it. It's all good!
Have a great weekend!