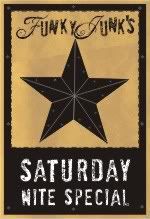 Intro
Welcome to Saturday Nite Special #43!
If you're new here, join in! There are three categories to link to. Home Decor as well as Crafts, Sewing, Recipes, plus the themed link! Check below for this weekend's theme.
Party starts Fri night and ends Sunday 11pm pacific, so you have all weekend to join!
I LOVE to highlight inspiring posts during the event on the sidebar, so make sure you check in several times over the weekend. You may be next. 🙂
~ This weekend's themed link ~

old chairs
You know, when I chose this topic, I was first thinking about old beat up chairs given a whimsical second life. The kind of projects that have you making a dive for the vehicle because you just caught junk fever.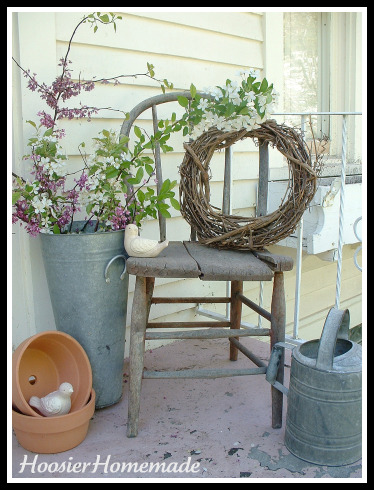 Kinda like this one from Hoosier Homemade. I love this rustic front porch display!
And how about this charming rustic wonder by Flat Creek Farm? Don't you love how the weathered wood against the burlap and succulents give this a very neutral palette? Totally droolworthy!
 And then there's the moss/sweet flower garden variety, like Going A Little Coastal's plant chair.  What a fun pop of extra colour the chair gives off!
And then there's the variation where old chairs really don't look old any longer at all. One of my favorite chair makeovers is Miss Mustard Seed's dining room chairs. I love the tone, distressing and of course those to die for one of a kind grain sack skirted chair pads.
Check out these ooooo lah lah lines on this pretty little thing by Going A Little Coastal.  Gorgeous! I am LOVING the antique white with the glaze.
Another chair trend I'm really enjoying are the skirted slipcovers, like this sweet variation from My Repurposed Life.  The dark woodwork really pops against the light slipcover, which can provide a nice anchoring effect.


(Thank-you to the gals that sent me their links via Facebook!)
As you can see, the sky's the limit where old chairs are concerned. Have you worked on an old chair project you're particularly proud of?

The 3rd themed linkup is waiting for your version! Let's see whatcha got!
~ Upcoming themed linkups ~
your fav project
– bring along your alltime favorite project, with any theme. Was it the one that put 'you' on the blog map or something you just love? Share it with us next SNS!
front doors
tablescapes
floors
lighting
window sill decor
There! Now you can plan some projects so you can join in easier! I'll post them in the order you see here.
What other themes would you like to see on SNS? Let me know in comments! 
 ~ SNS blah blah linkup rules ~
1. Please link up your intended post, NOT your blog homepage url. (post, then click the title of your post, cut and paste that url)
2. Please put a link in your post that leads back to the party so others can see what's up! (scroll button on sidebar if you wish)
 3. This party is geared for DIY type projects we can all attempt to make ourselves. Items for sale may be linked up IF your entry is posted on your blog and in tutorial style (unless making the item is self explanatory).
5. For Home Decor and Crafts, Sewing, Cooking, please link projects up that are new to SNS and within 1 month old. The 3rd weekly themed link may have older posts and not brand new to SNS.
If you can't decide which category to enter yours in, please just pick ONE and go with it. It's all good!