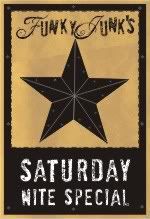 Intro
Welcome to Saturday Nite Special #48!
If you're new here, join in! There are three categories to link to. Home Decor as well as Crafts, Sewing, Recipes, plus the 3rd themed link. Check below for this weekend's theme.
Party starts Fri night and ends Sunday 11pm pacific, so you have all weekend to join!
I LOVE to highlight inspiring posts during the event on the sidebar, so make sure you check in several times over the weekend. You may be next. 🙂
~ This weekend's themed link ~

tablescapes
When Flea Market Trixie first aired these photos, I nearly passed out.
 But it wasn't because I was in a decorating contest with her and I feared losing.
It was all about those little white cookies! Ok, I'm only kidding a little. But this picture made me REALLY want those cookies.
Oh my good gosh. And then this came up. My garden doesn't look this incredible, never mind my cupcakes! Beauty like this really takes this tablescape to the next level.
And these lovely images had me positively DROOLING for that pink lemonade. See the frostiness misting the glasses? And she brought out MORE cookies.
And details. The smallest of details were enough. The gentle mix and layering of plates, pattern and equal intensity of colours and she called it done.
 
It was the gorgeous simplicity of it all that won me over. A lovely garden lemonade party sparkling with beautiful summer colour, including what's being served.
But know what I love about this little tablescape area the most?
Normal everyday things were being used.  Yet the way this is staged, it doesn't look common at all, does it?
This is art. Plain and simple.
And what about my tablescape submission in the contest.. Was it weird? Different? Rusty maybe even?!? Well…
 They don't call this place Funky Junk for nothin'. 🙂

Do you like my table? Think I'm kidding, don't you?
I'm going to link up my own tablescape to share a very different twist on 'fine dining.' 🙂
I can't wait to see what tablescapes you're bringing this weekend in the 3rd themed linkup!
The hottest thing in home fragrance visits us today! What is it, can you guess?
Candles you say?
Nope! It's much safer and cleaner than that.
It's Scentsy!
Click HERE to check it out and enter enter enter!
Lucky ducks. 🙂
~ SNS blah blah linkup rules ~
1. Please link up your intended post, NOT your blog homepage url. (post, then click the title of your post, cut and paste that url)
2. Please put a link in your post that leads back to the party so others can see what's up! (buttons are in the navigation bar along the top)
 3. This party is geared for DIY type projects we can all attempt to make ourselves. Items for sale may be linked up IF your entry is posted on your blog and in tutorial style.
4. For Home Decor and Crafts, Sewing, Cooking, please link projects up that are new to SNS and within 1 month old. The 3rd weekly themed link may have older posts and not brand new to SNS.
If you can't decide which category to enter yours in, please just pick ONE and go with it. It's all good!
Fireplaces wins this round! See you Friday. 🙂


<br /> <a href="http://polldaddy.com/poll/3779914/">Which themed linkup would you like next?</a><span style="font-size:9px;"><a href="http://polldaddy.com/features-surveys/">customer surveys</a></span><br />