Welcome to Saturday Nite Special #58, the collections edition!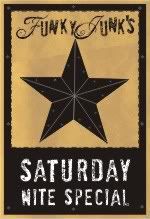 If you're new here, join in! There are three categories to link to. Home Decor as well as Crafts, Sewing, Recipes, plus the 3rd themed link up. Check below for this weekend's theme.

Party starts Fri night and ends Sunday 11pm pacific, so you have all weekend to join!
I LOVE to highlight inspiring posts during the event on the sidebar, so make sure you check in several times over the weekend. You may be next. 🙂
this weekend's theme
~ collections ~
 You might say I collect a few things. 🙂
I like grouping like minded objects together so they have a larger visual impact.
 I've recently received a few NEW collections in my mailbox over the last week from Anything Goes Here's Etsy shop,  with more on their way. Aren't these faucet handles the coolest?!?
My intent had been to do some really super creative things with the new collections arriving, however remember that power outage I talked about? I just discovered it knocked one of my work computers out so I was a little busy making a ton of phone calls instead. Guess I'll have to share what I do with it all in my Christmas reveal post. 🙂
Speaking of Christmas and cool junk…
I've officially decided that this year, my Christmas decor will be all about 'whatcha already got vintage'.  Meaning, a whole lotta junk will be prettied up some for the festive season. 🙂 No cost kind of decor, of course. 🙂
 This cute little coke box and bottle display sits underneath my twig chandelier, on my kitchen island. The crate is pretty handy for rolled napkins and cutlery too! A touch of real greens totally speaks Christmas without being blatant about it all.
Even the cogs on my desk got a little colour thrown in. I love the odd green one and the greenery again just adds a tiny hint of what's around the corner. (and hey… that's fresh snow you see in the pics!)
There's a reason I Christmas-fied up my collections. It's time to get in the spirit of things because…
~ December's themes ~
All about Christmas!
The themed linkups will change for the month of December! We'll all be busy with the preparations, so why not focus on what we need to do anyway and make it fun!
Dec 3 – your favorite things you and your family can't live without (for shopping inspiration!)
Dec 10 – your fav Christmas recipe
Dec 17 – your full home Christmas decor reveal
Dec 24 – No theme. Just let'er rip! SNS will be up for those loving the extra browse, however I won't likely be highlighting or commenting. It's time for family. 🙂
Dec 31 – Share this years' Christmas story
I hope you'll join in the fun!
Be sure to check the themed linkups master list to add your newest creations anytime.
List HERE.
In other news… inLinkz now costs party hosts $2 a month. 
If you decide to use the feature for your own link party you host, your registration through my button (also located on my sidebar) will help support SNS weekends. Thank-you!
~ SNS blah blah linkup rules ~
1. Please link up your intended post, NOT your blog homepage url. (post, then click the title of your post, then cut and paste that url) If your post has been deleted, please try again.

 2. Please put a link in your post (button or text) that leads back to the party so others can see what's up! (see BUTTONS label under main blog header)
 3. This party is geared for DIY type projects we can all attempt to make ourselves. Items for sale may be linked up IF your entry is posted on your blog and in tutorial style.
4. For Home Decor and Crafts, Sewing, Cooking, please link projects up that are new to SNS and/or within 1 month old.  This helps keep content fresh!
The 3rd weekly themed link may have older posts and not brand new to SNS and will remain open for your new additions at any time. Click HERE for the main list.
If you can't decide which category to enter yours in, please just pick ONE and go with it. It's all good!