You know my style by now, right?
Pretty rustic, junk accessories galore, with plenty of salvaged materials with the dirt basically blown off for good measure. (washing ruins a great patina you know)
 Now, can you guess who's style this is?

Why, it's Miss Mustard Seed herself, of course! Her look is unmistakable! In my eyes, it's refined vintage glamour. 🙂
Let's take another quick peek at the differences in style, shall we?
Funky Junk's salvaged desk
A Miss Mustard Seed  painted and flourished glam desk.
Ok, I can't resist. One more…. this one's REAL good. 🙂
FJI side table.
  A Miss Mustard Seed sidetable.
Hard to tell the two styles apart, isn't it? 🙂
Do you think she could style something totally salvaged or rusty like I do?
Better yet, do you think I could jewel up or refine something to emulate her style?
What about YOU?
Do you think you could mimic both our looks?
Well, here's your chance to get in on a fun challenge!
You're officially invited to two
link parties!

~ When? ~
We are both fast approaching a milestone that has everything to do with you, so we want to celebrate with you!
Watch both Miss Mustard Seed's and Funky Junk's follower widgets. Once one of them flips over to 4000, one party will begin! And the other one will soon follow when that meter flips to 4000!
~ The Theme ~

This one will be so fun! 

Funky Junk's theme will be MY salvaged junk style. 
And Miss Mustard Seed's party will be HER upscale vintage style.
Copy us for a day!
~ The twist ~

Oh yesss… we must have a twist!
I'm officially challenging Miss Mustard Seed to copy me for a day. I want her to create something in my rustic style to see what she can come up with.
And then I'm going to feature it at MY party. 🙂 Heehee!
BUT!!!
She's gonna get me back. She'll be featuring how I, junker me,  morphs a something or other into a sophisticated creation with my own two rust lovin' hands.
Will the style confusion have her belting out "Oh Canad-eh!" while she runs around throwing rusty junk on her neighbor's yards? Hey… she may land the treasure of her dreams from their own curb! Go MMS go!
Honestly? I'm not sure I can pull this off. To freshen up my rust with a fresh coat of paint, complete with a glaze, then add something sparkly, and maybe even throw in a labor of love kind of music sheet wreath…  (blowing dirt off stuff is a little quicker!) I'm kinda freaking out abit here.. but I'm willing to try if you are! 
~ How to play ~
1) Funky Junk's party – create a new post or link up an old one that reflects Funky Junk's style and have it ready to post anytime after my meter flips over 4000!
Update: both challenges will start after both widgets flip over 4000.
2) Miss Mustard Seed's party – create a new post or link up an old one that reflects MMS' style and have it ready to post on her blog anytime after her meter flips over 4000!
But you'll have to watch both blogs. They'll start ANYTIME after a meter flips past 4000. So, follow along so you don't miss out!
~ Prizes! ~
AND!! There will be a nifty prize for the best emulator on each blog with something from each of our own personal styles!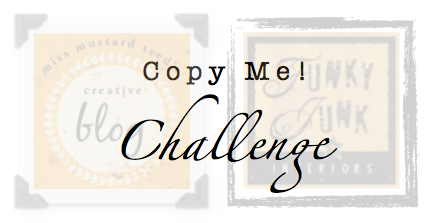 This button is geared for FJI. MMS has her own coding with hers so don't go mixin' em up now! Imagine… 🙂

Now, run on over to visit Miss Mustard Seed's post and see what she's got to say on all this. 🙂
And watch that ticker! See ya soon. 🙂
Whaddaya think? Are you coming out to play?
 Update: We're there! Welcome, and thank-you! Oh this will be so fun!
Keep watching for the link party! It's coming soon. 🙂