I received the cutest thing in the mail yesterday.  Isn't this miniature tool box the coolest?!?
Look closely at that handle. It's a twig!
 Naturally I had to get right into it and try the box out several ways. 
Even something this minuscule can have important uses.
 Check out the attention to Funky Junk detail. My barn star is stamped on both sides. Sweet! And the box is gently distressed after being stained with my trademark woodsy preference.
 The box also has my name on one side and bare on the other so I can switch it out. Cool!
This adorable tool box was built and sent to me by none other than Julie at follow your heart woodworking. What a cool reminder on the toolbox workshop we're currently hosting!
Stumped for ideas for your own tool box build?
I dug around in my own loot to see how I could get inspired to start my own build. Here's what I came up with. Can you see what I see?
 Special thanks to reader Lori for these!
 Hmmm… would this work?
 Ahhh… maybe…
I'm in LOVE with my little toolbox! Thanks Julie!
Did you miss the tool box workshop series to date?
Part 1 – inspiration
(image from Secret Garden Cottage)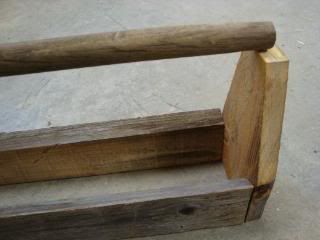 Part 2 – how to build one
 It's not too late to join in! But don't delay too long because….
Tool box link up – Fri June 4
~ ~ ~ ~ ~ ~
In other fun news, one of our blog friends Traci from Beneath My Heart is currently busy packing up and moving and summoned for some help with her blog. I'm joining forces alongside many others to guest post over at her place over the next month. 
And today it's me!
We're seeing a lot of pallet wood projects on the net. But are proper precautions being taken?
Visit my updated post on pallet wood safety over at Traci's HERE.
And don't miss the fabulously funky video and giveaway on right now. 🙂