31 Day series is currently in session. Click HERE  to visit.


my photoshoot of Fieldstone Vintage Market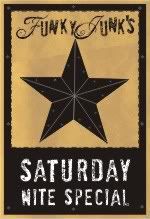 Welcome to Saturday Nite Special #104, the multi themed link party! 
* Home Decor
 * Crafts, / Sewing / Recipes
* Theme of the week
Every Fri 7pm  to Sunday 11 pm Pacific.
~ funky fall ~

Well friends, I haven't had time to play with fall decor. Lots going on at FJI headquarters, so today I'm pleased to feature some of YOUR funky fall projects!
A natural garland… love this! By Amanda Hofmann Designs Etsy







Could a bare chair be any cooler?
Deconstructed chair by Momma Hen
A old rake replaces a traditional wreath.
Gorgeous tree trunk candlestick! 
by Songbird
These simple fall table ideas are so easy and special!
By Funkytime







Ahhh! This is so adorable… and a little junky too. 🙂
By Maime Jane's



What funky fall ideas have you brought along this weekend? 
Link them up in this weekend's 3rd themed linkup!


Next up:
halloween and new voting poll – Oct 28
old suitcases – Nov 4
Click HERE for the master themed linkups list. Add yours anytime!
~ SNS blah blah linkup rules ~
 1. DIY home projects only pretty please. Items for sale must be in tutorial form on your blog.
2. Please link back to the party (text or button) within your post. See BUTTONS under main blog header.
3. Only projects new to SNS please. The themed linkup is an exception.
4. By linking up here, you're cool with me featuring you with no additional permission required. Cuz I wanna make you a star. 🙂
Join us on Facebook this weekend for party highlights!