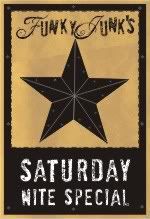 Welcome to Saturday Nite Special #14!
If you're new here, kick off your shoes and join in! The theme is always a DIY themed anything goes, so feel free to post your project, past or present that you're proud of so we can clap along with you!
Party starts at Fri night and ends Sunday 11pm pacific, so you have all weekend to join.
And to the Followers Event #7, the final draw!
This little shindig is all about celebrating the milestone of 1000 + followers. No need to be a follower nor subscriber to enter, however you sure are welcome to become one. 🙂 Watch for the Comment of the Day for some fun additional banter.
Ho boy, this weekend we have games, eye candy and an amazing draw that will knock your socks off! Are ya ready?
So, let's party!
~ Comment of the day ~
Games: A DIY getting to know you
If you wish to play, cut and paste these into the comments field
If you were a blob of paint… (kidding!)
What's your DIY specialty/passion?
What's your DIY dread?
How do you balance the blogging thing with real life?
Something you want to change:
A skill you want to learn:
Current color love:
What's your decorating style?
The giveaway I'm choosing is: (just don't forget!)
Eye Candy: Highlights from last week's SNS #13
And how about a little warmup for SNS? I have a little something of everything from SNS #13 last weekend.
Something soft… Sweetheart details sweeten up a plain pillow by Crafty Sisters. LOVE the 3D effect it has.
Something timeworn… Sheet music side table by Mustard Seed Creations. The two levels make the PERFECT home for added detail.
Something reno – EXCELLENT tutorial on how to beef up simple baseboard mouldings by Remodelaholic
Something photo worthy – A wonderful idea for ANY photo cards by For What It's Worth… Or Not.
Something unique – I can't wait to see this bifold door turned headboard in action! Hurry up Flea Market Trixie! xo
Present time! Weeee!
Have you met Polly from Make Mine Beautiful? Oh my gosh, this gal is talented!
She's a decorator. Look at the detail on this incredible lampshade. I KNOW!!
She's a crafter. This lovely platter is from her fully stocked ETSY shop.
And last but not least, she's the mastermind of a new fabulous DIY product you will yearn to have!
* gasp! *
* need! *
And she's an expert seamstress. These, my fellow DIYers, are must have WORK APRONS hot off the press. They are beautiful, functional, and a must have for any gal that totes anything from art supplies to tools around her environment. (her new store with the aprons will be running Sat) This is a new endeavor for Polly. She's left the corporate world and is now officially devoting her Etsy lifestyle as her full time employment,  putting her heart and soul into what she creates. Want to see more? Ohhhh you will.
Polly has a special (one click) post on her blog all ready for your visit. Dash down there as fast as you can and select which item you'd like to have if you won the giveaway. There are four choices this round, along with colour choices in each!
Please give her some comment love and snoop around while you're there. You'll be blown away with what you see. And if you follow her, you'll see all her latest creations as she makes them.
How to enter the giveaway
1. Visit Polly's blog HERE to choose your giveaway item you'd like if you won.
2. Come back to comments HERE and let us know…
– #1, #2, #3, or #4 and your colour choice (mandatory to win)
– your comment for the question of the day (totally optional)
– include your email if it's not on your blog/don't have a blog (mandatory to win)

3. Make sure you enter each giveaway listed below!  Look at them all now! Whoohoo!
4. And don't forget to link up your optional DIY project to SNS if you have one. (not mandatory to win draw) Please do  link back to the party within your post so others can also have the opportunity to join this amazing giveaway opportunity and help Polly get her name out there.
SNS – watch the sidebar widgets for special highlights of the DIY projects! You could be next. 🙂
and all our wonderful giveaway sponsors,
Draw #1 – Creations from My Heart – teacup pincushion
Draw #2 – Jaz Creations – digital artwork gift cards
Draw #3 – The Little Green Bean – burlap tote bag
Draw #4 – Treasures from the Heart – nesty things
Draw #5 – Living Life Creatively – customized bird
Draw #6 – The Old Post Road – hand painted illustration
Draw #7 – Make Mine Beautiful – work apron
SNS Link up Time!
Categories: Uncategorized