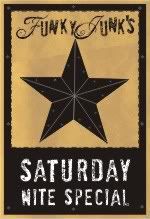 Welcome to Saturday Nite Special #13!
If you're new here, kick off your shoes and join in! The theme is always a *DIY themed anything goes, so feel free to post your project, past or present that you're proud of so we can clap along with you!
Party starts at Fri night and ends Sunday 11pm, so you have all weekend to join.
~ ~ ~ ~ ~ ~
… also…
Welcome to the Followers Giveaway Event!
This little shindig is all about celebrating the milestone of 1000 + followers. No need to be a follower nor subscriber to enter, however you sure are welcome to become one. 🙂 Watch for the Comment of the Day for some fun additional banter.
~ Comment of the Day ~
Junk food favs
No party is complete with out junk food right? Fess up on this one. Do you munch while you blog?
Guilty here! Hard cheezies are my fav. I have to admit I felt a surge of excitement when I found this picture on the net. 🙂 I also like frozen blueberries, pistachios, pomegranates and my ever present fresh ground coffee. But by far, the hard crunchy salty orange snack does it for me.
Now THIS pic is awesome. I'd definitely apply this to my own blog profile if I wouldn't get sued.
So, what's your bloggy snack of choice? 🙂
Today's Giveaway
We have something special from Christine at Jaz Creations!
Have you ever heard of fractal art before? You are not only in for a treat, but an education as well. You can see more of her unique creations in her ETSY shop. They are beautiful!
This girl knows her art. She's an active DIYer as well, creating art with whatever she touches. Cool glassware, Christine!
Christine has a (one click) page for you to view! Please choose #1 or #2. Make sure you also offer up some bloggy love while you're there for her generosity. 🙂
 How to enter the giveaway:

1. Visit Christine's blog HERE, and choose which item you'd like if you won.
2. Come back here to the comments  and…
– select #1 or #2 (mandatory to win)
– your email if it's not on your profile nor blog (mandatory to win)
– tell us about your bloggin' junk food passions if you wish 🙂
– one entry per person per giveaway event
Blah blah rules for the SNS linkup:
1. Please link up your intended  post, NOT your blog. (post, then click on title of your post, cut and paste that url)
2. Please link back to the party within your post via SNS button (see sidebar) or text link.
*3. Entries in DIY format only please. No direct Etsy links.
The below draws are open until Jan 30
Day 1 – Creations from My Heart
Good luck and happy inspiration!