Welcome to Funky Junk's 1000 Followers Event
Draw #4!
 Each day until Sat Jan 23 (except Wed, but I have something else for you THAT day) we'll feature a giveaway along with a comment of the day to make things a little more interesting! So check back daily in comments so you don't miss lots of fun banter and tips galore. This IS a party after all. 🙂 
All the draws are open until Sat Jan 30 midnight Pacific time. One entry per draw per person please. You do not have to be a follower or subscriber to enter, however feel free to join if you like what you see. 🙂
So, let's party!
~ Comment of the day ~
"What was your riskiest project to date?"
You know the ones I'm speaking of. The kind where you took some kind of risk where you had no idea if your idea was sound and sane?!? Then you proceeded to hold you breath while you hit post? But then you're glad you went for it because the response was actually favorable??? Please don't tell me I'm the only one that goes through this…
I'll admit I have a few that fall under this category. Ok, maybe everything I do. Keeps me young I guess. 🙂
But without a doubt, I had some of you GASPING wondering what in blazes I was thinking when I laid THIS down on my lawn. I even second guessed myself for awhile. BUT I knew with a pending deadline, I had to gitter done. So with the door from the burn pile and the gate from the dump, this pile of trash became…
my 
White Trash Bedroom

.
Nearly every component was indeed created from trash. This little shabby ensemble still makes me smile every single day. 🙂
This room (like all my others) resulted in working around finds, as opposed to having a big pie in the sky plan. I save this and that and wait for the vision to hit.
Ok, and this was my 2nd riskiest.
The hanger curtains
. I remember hitting the post button around midnight and then tossing and turning. At one point I even went up to the computer to remove the post, but then decided, if you don't risk a little, you don't grow. The next AM I literally RAN to computer to see if everyone left funky town. You were all still here and with rave reviews to boot! Talk about losing it all to having it all back, eh?
OHH! AND care to check out risk #3?!?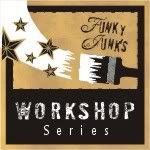 Tune in Wed for the
Workshop Series
, Building your own Workshop –  Part 2 – Purging
. Instead of a normal giveaway that day, I've made something for ALL of you. 🙂 And yes, it's VERY risky. (another sleepless night here I come!)
You're turn. 🙂
What is your riskiest DIY project to date?
Tell us about it in the comments! And the story behind it. Don't forget to include your url if you have it online so we can go take a peek. 🙂
But first, how about a little party present? 🙂
Meet Barbara Jean from Treasures from the Heart.
Barbara Jean is well known for her amazing nest creations. Her designs are created with layers upon layers of papers, lace and pearls, and utilizes boxes, picture frames, gloves, or most anything for her bases. Here's a shot of one of her latest creations. She has this item as well as MANY others in her Treasures from the Heart SHOP.
She's a big part of our DIY blog network as well, and one of her specialties is actually creating nests from scratch. She just made these in the last week and has some big plans in store. Check out her infamous nest tutorials on her DIY blog – wooden variety  and the mini .
I snooped around in her archives and found this hot tip on how to create vintage looking buttons. There's a secret ingredient to this recipe you'll never guess. 🙂
Today, Barbara Jean has a very special (one click) post waiting for your visit. She wants you to come on over and pick out your own sweet giveaway item should your name be drawn.
Please remember to give her abit of bloggy comment love for her generosity while you're there. 🙂
How to enter the giveaway
1. Visit Barbara Jean's blog HERE to choose your giveaway item if you won.
2. Come back to comments HERE and let us know…
– which item you'd choose if you won, #1, #2, or #3. (mandatory to win)
– your comment for the question of the day reply if you wish; we'd love to read it!
– include your email if it's not on your blog/don't have a blog (mandatory to win)
3. Make sure you enter each giveaway listed below!
See ya tomorrow for 'Big Risk #3'. 🙂

and all our wonderful giveaway sponsors,
Draw #1 – Creations from My Heart
Draw #2 – Jaz Creations
Draw #3 – The Little Green Bean
Draw #4 – Treasures from the Heart
Categories: Uncategorized