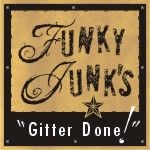 Me last weekend – Weee! Great weekend! I'm playing on SNS and want to play all weekend long!
Internal voice – Go weed your RV gravel driveway.
Me – Gross! And it's raining!
Voice – You won't melt.
Me – And if I don't?
Voice – No camping. No SNSing. No DIYing. No this-ing or that-ing. Your neighbors are cringing as they walk by. Git'ter done already!
Me – (pout) You're such a NAG.

I'm so not a fan of the gravel.
Hired help! He so earned his slushie.
Vavava voooom!
"Tadaaaaa!"
Me – There! I'm happy! I got alot done! I'm off to make a post!
Voice – You aren't going to post about THIS are you?!?
Me – Well, I dunno… I took photos and stuff. I might. Why?
Voice – No one gives a RIP about your WEEDS. Get serious!
Me – But…
Voice – I told you to do this so you COULD do your DIYing and SNSing and what ever other abbreviations you must live by AFTER the work is done!
Me – Ok, well, I'd NEVER have time to blog if that was the case, because I'm NEVER done, so I have a new idea.
Voice – Oh?
Me – We're all busy. Legitimately, I have NO time to blog and play at all. We all WANT to just decorate and scan decor blogs all the live long day but we can't. We have to do stuff. So why not make it part of our blogging?
Voice – How so?
Me – Well, why not challenge ourselves to a given project? It can be or not be DIY related. It can be anything that one wishes to accomplish. Maybe it's a closet that needs cleaning out. Or an RV gravel driveway that needs weeding. (very common I hear)
You decide on a goal. You can change direction mid stream if you need to because as we all know, stuff happens. But the point is, make a goal and gitter done! Get a before and after shot for a new post showing what you just accomplished and link it up!
Voice – But if it isn't DIY related, what's the point on putting that on a niche blog? Kinda boring…
Me – At times we aren't into decorating  but have other necessary things on the go. This would be a nice way to share what we're busy working on.
Voice – And how will this help the masses again?
Me – We like to blog. So we can blog AND getting our stuff done without guilt!  While offering kudos and support for each other. We're still connecting because, well, we're friends and frankly, I'd like to know abit more about my friends other than what colour they're painting a chair at times…
Voice – I'm speechless. You're brilliant. Carry on!
Me – Thanks! Did I earn my SNSing and DIYing yet?
Voice – What do YOU think?!?
Me – (double pout) You're such a DOUBLE NAG!
So, what do YOU think?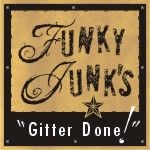 Rules for the  "Gitter Done!" Challenge.


1. Make a goal. It can be anything YOU need/want to get done – big or small, DIY or not DIY related.
2. Take a before and after pic. No need to make it a huge production unless that's what you wish to do. Simple is good too! Remember, you have stuff to do! 🙂
3. Have your post ready for the first Wed of each month.
4. Entry MUST be GD inspired only so please be sure to tell us why GD inspired you in your post. This is an exclusive party. Regular party linkups will be removed, sorry!
5. Please keep your entry new to the net until reveal day.



Take this as an opportunity where you CAN talk off topic. Hey, you never know… you may get a whole lotta stuff done PLUS fitting that blogging in this summer after all. 🙂 If this idea is popular enough, maybe we can do this every 2 weeks or once a month!
Now get off the computer and "Gitter Done!" And then blog about it. 🙂

(button code located under blog header in 'buttons')
What do you think? How often? Motivating? Fun? Weird?