Welcome to Saturday Nite Special #56, the numbers edition!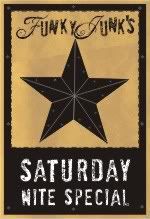 If you're new here, join in! There are three categories to link to. Home Decor as well as Crafts, Sewing, Recipes, plus the 3rd themed link up. Check below for this weekend's theme.

Party starts Fri night and ends Sunday 11pm pacific, so you have all weekend to join!
I LOVE to highlight inspiring posts during the event on the sidebar, so make sure you check in several times over the weekend. You may be next. 🙂
this weekend's theme
~ numbers ~

One of my first numbers inspired piece was when I put house numbers to the front of this dresser.
This is my #2 alltime fav number project. The head board turned towel rack piece was a direct spin off from the dresser. I was officially in LOVE with numbers. And from there, the addiction went wild. 🙂
(black trunk holds main unit, box on right covers speakers)
And my latest project, the big #2 with other number fun on the crate stairway.
What's your story? Why do you like numbers in your decor? 
Do your friends and family get it?
'Nuff about me. Let's see your own number creations in this weekend's 3rd themed linkup!




NEW! The themed linkups will stay open for your themed creations!
Check out the new sidebar button for the ever growing list HERE.

~ SNS blah blah linkup rules ~
1. Please link up your intended post, NOT your blog homepage url. (post, then click the title of your post, then cut and paste that url) If your post has been deleted, please try again.

 2. Please put a link in your post (button or text) that leads back to the party so others can see what's up! (see BUTTONS label under main blog header)
 3. This party is geared for DIY type projects we can all attempt to make ourselves. Items for sale may be linked up IF your entry is posted on your blog and in tutorial style.
4. For Home Decor and Crafts, Sewing, Cooking, please link projects up that are new to SNS and/or within 1 month old.  This helps keep content fresh!
The 3rd weekly themed link may have older posts and not brand new to SNS and will remain open for your new additions at any time! See sidebar button for easy reference.
If you can't decide which category to enter yours in, please just pick ONE and go with it. It's all good!


<br /> <a href="http://polldaddy.com/poll/4071489/">Which themed linkups do you like? (please vote for all you like, the obvious top few will be chosen) Poll closes Sunday 11pm Pacific.</a><span style="font-size:9px;"><a href="http://polldaddy.com/features-surveys/">online survey</a></span><br />