Welcome to the long awaited Copy Me Challenge kickoff!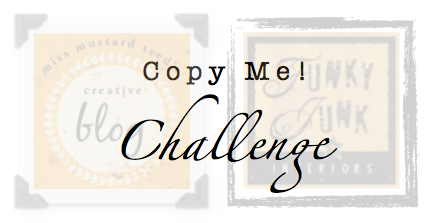 On Funky Junk, your assignment was to attempt to create my salvaged junk style.
And, this is also where I show you Miss Mustard Seed's version of a little funky junk. 🙂 Let's see how she made out… take it away friend!
~ ~ ~ ~ ~
  
I woke up this morning with a sudden craving for coffee, chick flicks and flannel jackets.  I started saying "eh" after every sentence and found beauty in rusty bolts and gears. 
(By the way, my husband thought of a name for Donna's jewelry line…Rust Lust!)
After raiding my neighbor's dumpster (not really, but it's what Donna would do!), this is what I put together. 
First of all, to emulate Donna's style, I needed lots of layers of texture.  She loves her twiginess and natural elements, so I made sure to add that in. 
I needed a "Donna-worthy" back drop and a chippy old door with rusty hinges was perfect.  A gracefully pointed shoe form brings a little quirkiness to the arrangement. 
…and I knew Donna would go nuts over the threading and rust.
Family photos are casually tucked into the arrangement to add personality and a sense of history.
An antique fan brings in a little funky-junk shine, but still has the perfect amount of rust. 
I tucked some twine in an insert for an antique tool box, again to add texture. 
Hinges and pinecones fill another cubby of the insert. 
I couldn't put together a Donna arrangement without including a meat grinder!  An antique ruler and pair of scissors are tucked inside. 
I knew she would also love the typography.
I didn't have any bolts hanging around my house, so these wooden spools are a good stand in. 
I dug this crate out of my basement and didn't notice the advertisement on it until I was editing the pictures.  Isn't it perfect?
It's filled with feed sack pillows and a wool throw. 
So, how'd I do?
Now it's your turn! 
 ~ ~ ~ ~ ~
How did she do?!? I'm moving over there to have THAT rusty junk. That's how she did. 🙂 Why, I'm mighty proud of you for stocking this stuff, MMS! I am so in love with those scissors…

LOVED that video! My fav part was the dumpster diving haul. She totally nailed the coffee thing too. 🙂
~ Linkup Party Info ~
Fri, 7pm Pacific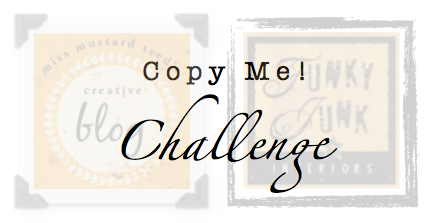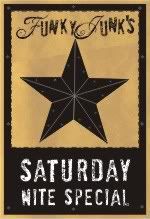 No SNS this weekend
The Copy Me linkup  will be posted on Friday evening, 7pm Pacific, in lieu of Sat Nite Special this weekend. We will resume with SNS next weekend once again, with chandeliers being the themed linkup.
The Copy Me linkup will be open for 1 week, where a winner will be deemed shortly after.
Judging and prize info will be posted on linkup day.
Now go funk up that junk! And see ya Friday. 🙂
Don't forget to head on over to Miss Mustard Seed's.
I hear there's a pretty off the wall video down her way too… 🙂