Welcome to Saturday Nite Special #81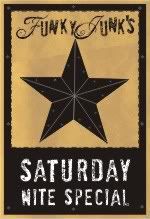 If you're new here, join in! There are three categories to link to. Home Decor as well as Crafts, Sewing, Recipes, plus the 3rd themed link up which stays open indefinitely. Check below for this weekend's theme.

Party starts Fri night and ends Sunday 11pm pacific, so you have all weekend to join!
I'll be featuring SNS highlights during the weekend on FJI Facebook, so join in and see what they're all saying about your stuff. 🙂
this weekend's theme
~ vintage hardware ~
One of my all time favorite things to collect is old, beat up rusty vintage hardware.
Hooks, hinges, doorknobs, locks, bolts, anything's game.
And then I start to play. 🙂
 
 Hmmm… yummy. 🙂
An old barn gate plus odds and sods of hardware becomes:
an instant coat hook area
a towel bar for the bathroom
towel holder for beside an outdoor pool
a clothes changing area for the bedroom 
And how about that cool pic thing for a calendar on a string?
Here are a few older projects I've also added old hardware to:
The hinges and hook that were added to this shutter made the project appear that much more authentic.
This collection of what everss added to this Farmers Market sign helped to make a normally flat sign a little more interesting AND productive.
Not sure how old these brackets were, however they sure added a little fun bling to this grocery sign.
What to do with a buncha big ol' greasy bolts? Drill holes and plunk them in for added detail to a desk top. 🙂
I think I've proven my point. Old hardware is so much more interesting than anything you buy brand new, don't you think?
Link up your vintage hardware projects up in this weekend's 3rd themed linkup!
~ next up ~

Pets in your decorated home 
(see THIS post for details)
And then we'll just belt on down this list from our last poll. Fun!!
*the order of this list is subject to change: please check weekly for the new theme.
Be sure to check the themed linkups master list to add your newest creations anytime. 
They're always open.
List HERE.
~ SNS blah blah linkup rules ~
1. Please link up your intended post, NOT your blog homepage url. (post, then click the title of your post, then cut and paste that url)

 2. Please put a link in your post (button or text) that leads back to the party so others can see what's up. (see BUTTONS label under main blog header)
 3. This party is geared for DIY type projects we can all attempt to make ourselves. Items for sale may be linked up IF your entry is posted on your blog and in tutorial style.
4. For Home Decor and Crafts, Sewing, Cooking, please link projects up that are new to SNS and/or within 1 month old. Repeat linkups will be removed.
The 3rd weekly themed link may have older posts and not brand new to SNS and will remain open for your new additions at any time. Click HERE for the main list.
If you can't decide which category to enter yours in, please just pick ONE and go with it. It's all good!
 5. By linking up to SNS, you approve to being highlighted on FJI Facebook, added to the themed linkups and for possible future features on Funky Junk Interiors' blog without additional permission required unless your post states otherwise.
 Come on over and see if we're talking about you this weekend. 🙂