Welcome to Saturday Nite Special #86
theme – 'what is it?' junk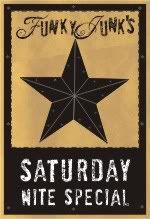 If you're new here, join in! There are three categories to link to. Home Decor as well as Crafts, Sewing, Recipes, plus the 3rd themed link up which stays open indefinitely. Check below for this weekend's theme.

Party starts Fri night and ends Sunday 11pm pacific, so you have all weekend to join!
I'll be featuring SNS highlights during the weekend on FJI Facebook, so join in and see what they're all saying about your stuff. 🙂
This weekend's theme:
~ 'what is it?' junk ~
I have this funny little red doodad that I found when I went junk'in at a welder's back 40.
I thought maybe I'd make a towel bar out of it one day until I decided to mount it on my signature wall in my work area. Oh right.. I haven't shown you that yet either, have I? 🙂
 This area is located in my 'sign shop' downstairs. The signatures are from a great group of sign folk friends that came by for a workshop I was a part of. I asked them to sign my wall as a wonderful memory maker AND something cool to look at. 🙂
(I'll do a full reveal of the room when it's clean complete)
So what did I end up using this strange rusty red artifact for anyway?
It's a tape dispenser tool holder.
With loads of junk style. 🙂
So, anyone know what it actually is?!?
Here are a couple others I shared during round one of SNS # 66 What is it? junk #1
That's what I love about weird junk. Your imagination is the only rule maker to go by.
Have you decorated with an 'I have no idea what it is' junk object? Please share it in this weekend's 3rd themed linkup!

~ next up ~

unique lighting
Have you created a unique way to light up an area? 
Bring it along next weekend!
*the order of this list is subject to change: please check weekly for the new theme.
Be sure to check the themed linkups master list to add your newest creations anytime. 
They're always open.
List HERE.
~ SNS blah blah linkup rules ~
 1. DIY home projects only please! If you link up for any other reason (selling, inviting to your own link party or giveaway etc) your link will be removed. Items for sale may be linked up if you show your DIY in tutorial style on your blog and your main purpose is to share the technique.
2. Please link up your intended post, NOT your blog homepage url. (post, then click the title of your post, then cut and paste that url)

 3. Please put a link in your post (button or text) that leads back to the party so others can see what's up. (see BUTTONS label under main blog header)
4. For Home Decor and Crafts, Sewing, Cooking, please link projects up that are new to SNS and/or within 1 month old. Repeat linkups will be removed.

The 3rd weekly themed link may have older posts and not brand new to SNS and will remain open for your new additions at any time. Click HERE for the main list.
If you can't decide which category to enter yours in, please just pick ONE and go with it. It's all good!
 5. By linking up to SNS, you approve to being highlighted on FJI Facebook, added to the themed linkups and for possible future features on Funky Junk Interiors' blog without additional permission required.
 Come on over and see if we're talking about you this weekend. 🙂