I LOVE the look and feel of old architectural elements from buildings and such. 
So imagine my complete delight when I had the opportunity to play with an entire DVD full of them! In alphabet and number form no less.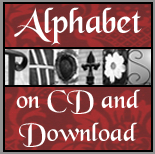 Jodi is the mastermind behind these very cool letters and offers them two different ways to cater for the shoppers AND DIYers! Genius.
www.ArtisticLetters.com – this website offers custom-designed (by Jodi) personalized 10 x 20 inch prints delivered right to your door.  All it needs is a frame. Gorgeous!


www.BuyAlphabetPhotos.com – this website offers a CD or Download of 400+ Letter and Number jpeg images.  People can create their own projects and do their own printing! How cool is this?
Jodi takes photos of natural elements that resemble letters. The end result is a very whimsical way to spell out most anything.
Jodi even has an ideas page HERE to offer you lots of ideas!
Wanna see what I made?
A card on a whim
I love layers, so I paired up some burlap, black construction paper, plain paper and the printed out letters.
And created a multi layered gift card that is totally unique and a little junky too. 🙂
Behind the printed design, is my personal message inside the card.
Layer, punch a hole, tie with a string and you have a very quick card at a moment's notice 
that is totally custom to suit.
Christmas card on a window valance
I created the image I had in mind and printed it on the lower side of a sheet of paper. 
Behind it is a sheet of construction paper.
Fold the black in half, but the white a little short in front. 
Place the black card inside the white.
Cut a music sheet border with fancy scissors.
Glue music sheet border to underside of white.
Punch a hole through the works, and tie with raffia.
Embellish with a little snip of real greens, and you have a very pretty card or…
… part of a garland valance. 
Very simple and fun! (full garland reveal coming soon!)
How I printed it out
 The letters are really easy to use. They are saved in a jpg format, so you simply download them, then use them inside a program that accepts jpg images. 



On my mac-aholic,  I used Pages. Jodi offers additional info on how you can use them HERE.
On the left, the image downloads are opened up, then dragged them into Pages. You can print as is but I added a few more elements just for fun. The letters work really well with photo manipulations.
 I added one of Jodi's backgrounds, changed it to black and white and softened it, and added enhancements to each photo all in Pages. From here I screen printed the image which went on my desktop, ready to print or upload online. Easy!
And just for fun, I dragged the image through Picnik, added a matte, frame and snow. Fun!
Here's a small sampling of some mattes also available. Like the pattern but not the color?  Jodi shows how to change the colors using Photoshop Elements on video at the website. (click HERE)
The sky's truly the limit with these images. You can make fun labels for your gifts, cards on a whim, your own stationery, signs, pictures, labelling and so much more!
My summary
The letters are really easy to work with. If you know how to mess with photos, this is no different. They downloaded quickly and the folders are clearly labeled in two sets.


There are many choices of each letter which is really cool. I like how some have darker backgrounds while some are lighter so you can switch the intensities out.


The letters and numbers are in black and white images only. While the choice of color would be nice too, you can really jazz them up with the colorful mattes in behind. Plus you can add your own sepia tones or lightened intensities for a different look.


I personally like the letters in smaller doses. Too many in a group tends to take away from the beautiful architecture Jodi was able to capture. But really, it's all up to you. Create, have fun and see what YOU can come up with! 


The images are for personal use only, however commercial options are also available if you desire the images for your blog design, ebooks, or things you wish to sell.


As for Jodi, she's attentive and quick to work with should you have any questions. Excellent customer service!
A great deal for YOU!
Jodi has partnered with me and has created Exclusive Discounted Pricing of up to $4 on selected packages PLUS a bonus Freebie Damask Alphabet set of your choice with any purchase!
What you get: 
400 + images of Alphabets
Freebie Damask Alphabet
Free Winter Matte Package
(all in jpg format)
All for under $40 (which is 50% off!)
Plus other matte packages available for purchase.
How to order: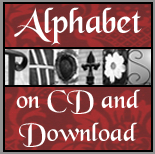 Go to the website HERE.
Browse around and see what you like.
Click on FunkyJunk in the blue tab and enter SAVINGS.
View the discounted pricing and Freebie Choices!
Sale and freebie offer expires after Wed, Nov 16.
So be sure to take advantage of this exclusive promotion while it lasts!
(The letters were sent to me in trade for this review. While I always appreciate the trial, it doesn't sway my review opinions. )
What would you make with these letters?