Welcome to the Workshop Series brought to you by
Funky Junk Interiors and Mustard Seed Creations!
Today Miss Mustard Seed is leading the last installment of her decorative painting seminar. She's going to share her design secrets and prove to you that you don't have to know how to draw in order to paint. Amazing incredible read. I was glued to every word and it totally inspired me to pick up the tools she mentioned to give it a try. Enjoy this one!
First, let's get started with Funky Junk's series,
Creating your own Workshop
Entire series to date HERE
2. Purge (goofy purge video spoof)
4. Search for inspiration and ideas (goofy thrift store video spoof)
6. Shopping
7. Setting up
8. Before and After link party!
We've already covered the next two subjects, however I'll lightly touch on the subjects and then move on to learn something new and oh so exciting. 🙂
Part 6. Shopping
Well, you already know where I personally shopped as per Part 4. I shopped my own place first and the local thrift for the bulk of what I required. With a little creativity, you can create a productive area with the simplest of things. Remember also, you can make what you need if you know someone handy enough. It really all amounts to what you personally require to do your type of work.
Where to shop for your setup stuff
your own place
Thrift stores – ready made odds and sods
lumber yards – ready made and DIY
buy off others privately
shop the newspapers/craigslist
~ more on where to shop in Part 4 ~
7. Install
This one's pretty self explanatory. Unless you're getting some killer wrap around cabinets and pro workbenches, for the most part you can do most setups yourself, especially if you use ready built items and lightweight table surfaces like the collapsible tables used in Part 4.
~ loads of easy to do installing ideas were in Part 5 ~
Ok, so how would you like a fancy dancy cord wrapping lesson? I mean a little different from the norm?
Fancy Dancy Cord Wrap
Yes folks, you too can have cords that look…
… like this. I know. You can barely stand the suspense. Here ya go!
Fancy Dancy Cord Technique
1. Straighten your entire cord, folding it in half.
2. Place your hand inside the cord and grip as per the picture. Keep gripping and….
3. … pull the gripped area through the looped area so you end up with this.
The rest is really difficult to picture and explain, so I'll let the crappy quality video take over. 🙂 I love the second segment. There's a huge lag in between the sound and speech. Looks like a poorly made international movie (that would be nearly true from this Canadian, eh?), complete with gritty screen.
Oh hey.. watch my dog. When I get mad at the noisy geese and dryer vent in the background, Jenna runs for cover. She dislikes my serious voice. 🙂
I like wrapping my cords this way because they totally stay neat and tidy and you can actually use the cord partially wrapped. They never tangle and are so easy to transport around. A pro electrician showed me this trick and I've used it ever since.
This is how that beauty looks in my own garage.
And because I'm totally not the most serious person on earth here, how about a few still shots from the video? Ever do this? Tape yourself then see just how weird you can get the poses just for kicks because you're avoiding going to work and this was more fun?!?
THAT was an education. Aren't you glad you tuned in now?
Hey, know what? We're DONE!
Congrats. You officially have a lovely workshop which is the envy of your entire town. (right??)
What's up next?
THE BEFORE AND AFTER LINK PARTY!
Whoohoo!
Party – Wed Feb 24
Be there to enter! After the linky closes, we'll then vote. I'll announce the whole meal deal next week. YOU get to choose the winner of the most impressive before and after! And for the winner, I'm going to send a little something your way to help make your workshop setup even a little cooler. 🙂
Upcoming Workshop Series changes
Now that our workshops are all nice and clean and ready for high productivity, the workshop series will change. I'd like to offer diverse topic ranges in much shorter segments so you can capture the most bang for your click on over here. Topics will come before you in a random fashion, so make sure you tune in to see if the topic of the week interests you! There will also be blogger guests showing you their own tricks of the trade.
But first I need your help.
See that poll up on your right sidebar widget?
It wants to know what you want to learn in the workshop series.
Please select ALL the answers that interest you.
Go for it. Let me know what inspires you to come on back and get excited about this thing and I'll see what I can do. And if I can't do it, I'll try and find someone that can. Feel free to also comment below but don't forget about the poll up on top. Thanks for your input!
After you've clicked your selection and left your comments, head on over to Mustard Seed Creations for the last segment on decorative painting. Upcoming changes galore everywhere you look today! 🙂
How to wrap an electrical cord via Funky Junk Interiors from Funky Junk Donna on Vimeo.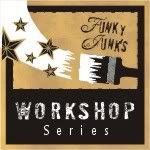 Grab your button for the big show and tell next week. 🙂