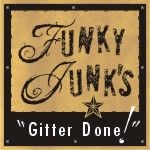 Nothing motivates a procrastinated project more than hosting an event about the subject I tell ya. Add in the incentive that a new computer was on it's way, and I was rarin' to get this area prettied up!
This project is all about the kitchen office.
You may vaguely remember the old office as very woodsy and eclectic. While I did like it, my needs just changed. I wanted something light and bright to spark up the space and hopefully make it more functional to accommodate my work and incoming equipment better.
Paint and haul in your typical pine garage storage apparatus, and you too can create your own…
… built in wall to wall floor to ceiling shelving mayhem that can store a ton of fun! Push a farm table in front and you have yourself a fun little office!
All kinds of cool elements were added to twist this out of the norm. I found these galvanized corbels at the thrift – 2/$3.00. Funky fun!
The meat grinder pen holder made a comeback. It's just too handy. And oh so weirdly me. 🙂
Every shelf opening was first anchored with something woodsy, then blitzed up with… other fluffy stuff. The white crock is my grandmother's which I got from my mom's. My Denise Original FJI bird fits right in. 🙂
Careful consideration was taken to place non light obstructing items in front of the windows. I love my sunshine. 🙂
I don't know what that wood box was, but it sure is perfect to hold cds and dvds!
Another corbel was added to house dangling electronic gadgetry at an arm's reach. The Gray crate stores my son's school paperwork that seems to seep in the house daily.
This is the reason I did not cheat with the painting. I knew I'd be looking UP at the unit, so I painted every single square inch of it. Two clip on lights illuminate the space really cool like in the evening when all the other lights are out.
 Especially at night after my lil' dude is in bed and I can blog the night away. Cool eh?
Speaking of blogging…
… this is the new computer I've been ranting about for way too long now. But hey.. I only waited 15 years for one. I was overdue for a good rant. 🙂 This crazy awesome screen is the jumbo 27″ iMac and I'm fanatically and utterly in love with every ever lovin' pixel of it! I'll do a post on my new computer experience very soon.
The table was stripped down to a bare wood top with the base repainted to better match the surroundings. It's currently on trial and if it passes, I'll crate it up some. 🙂 I'll do a tip tute on how I stripped it down.
 Using the same table, the cozy and intimate before…
 … to wide open spaces after.  If you desire a built in wall unit, this is a fast and price efficient way to achieve something similar. Shelves can be staggered to accommodate file cabinets or printers. Check out how the unit just missed the windows. Perfect. 🙂
Update: this was after the palette desk was added.
The wall unit was not originally intended to go here, but for now, it works until I come up with something cooler.
And you know us stagers… when we do photo shoots that matter, we have to teach our families to work around it, yes?
My son having to use his laptop under the table totally earned his slushie that day. 🙂
Wanna see the wall unit being tweaked? Visit the original Gitter Done Event post with the linkups HERE!
So… what do you think? What would you do to the table?
Related Post:

The build of the wall unit can be found HERE.