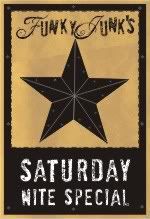 Intro
Welcome to Sat Nite Special # 19!
If you're new here, kick off your shoes and join in! The theme is always a  DIY themed anything goes, so feel free to post your project, past or present that you're proud of so we can clap along with you!
Party starts at Fri night and ends Sunday 11pm, so you have all weekend to join.
I LOVE to highlight inspiring posts during the event on the sidebar, so make sure you check in several times over the weekend. You may be next. 🙂
This weekend's DIY feature
Have you met Beth over at Patina White yet?
She's a real life junker. The real deal. She is the blonde version of me. IF I knew half as much as her that is.
She loves rust.
She makes cool metal stuff for her seasonal store. (not online)
She loves all the kinds of stuff that I love. LOVE.
I've been following Beth's blog for some time now. Her organic rustic style totally has me riveted to every single creative post of hers. She's a true junker and knows what to do with it. She makes me realize what I personally LOVE. How does she know better than I? I don't get it.
Anyway, when she posted about her new laundry room makeover, I knew right then and there that I had to have her on board HERE. You'll soon see why.
Oh my word… vintage and texture wherever you look. Every square inch of this room totally speaks to me.
Beth says,
"I added a burlap skirt to the wood counter to provide a rustic cover & create a storage nook. the ship-lap counter was stained ebony which made for a rich mocha hue on the former new pine. and i am so tickled to have the commercial sprayer faucet for stubborn stains + rinsing! now…do you remember the peek at the weathered bleach sign? well you can now see it in it's full glory above my folding station! let me tell you…it is quite a luxury to have a spot to fold clothes! (other than the random tables and beds around our home!)"
Beth, I missed the sign. How could I miss the sign?!? I LOVE this thing.
This galvanized bin (with real rust attached! swoon!) holds the cleaning supplies. I love Beth's quaint way of labeling with a stamp and simple card stock. A homespun element but in a pro way.
And this wire mesh basket wears multiple coats of sealer as it's reserved for the clean items. Groan…  
Wimper… What do you think of this 'radiator belt rack'? I love things that have a story attached to them.
I'm dyin'…  Beth's laundry room post in it's entirety is HERE.  Beth, I need to be your best friend because when I copy your laundry room one day, I want you to realize it's a compliment, not a copyright infringement, k? xo
OK one more.  This drying rack is being put to excellent use as the perfect stage for other fun things. Beth just really knows what to do with her 'stuff.'
I could just totally take Beth's whole blog in html mode and cut and paste it and be happy and content. I'll let you go wander over there yourself and snoop around.
Beth, thanks so much for allowing me to feature this very cool room! If this doesn't start the inspiration passion, I don't know what would.
Sunday Nite Vote Madness!
Heads up! SNS will be off the main page earlier Sunday night due to
I have to have my own post up and running Sunday night. SNS will continue to run until 11pm as usual so just scroll abit lower for it.
Sunday night 11pm pacific is the deadline to add your workshop before and after. Please stay tuned shortly after for the voting poll to arrive on the sidebar!
Interested in a giveaway?
Click the workshop button, and make a label kinda comment and you're entered!
Blah blah rules for the SNS linkup:
1. Please link up your intended  post, no your main blog. (post, then click on title of your post, cut and paste that url)
2. Please put a link in your post that leads back to the party so others can see what's up! (scroll button on sidebar if you wish)
3. I've allowed 75 characters in the link title area, so go ahead and tell us your blog name AND project description. There's room. 🙂
*4. This party is geared for *DIY type projects we can all attempt to make ourselves. Items for sale may be linked up IF your entry is posted on your blog and in tutorial style (unless making the item is self explanatory).
Bring that junk'o yours on!