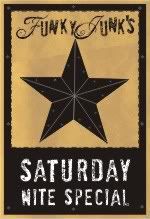 Welcome to Saturday Nite Special #28!
If you're new here, join in! There are two categories to link to, Home Decor as well as Crafts, Sewing, Recipes, so feel free to post your DIY project in the applicable area below.
Party starts at Fri night and ends Sunday 11pm, so you have all weekend to join!
I LOVE to highlight inspiring posts during the event on the sidebar, so make sure you check in several times over the weekend. You may be next. 🙂
~ DIY Feature~
A dresser gets dressed up
Remember when I told you about my big junkin' day awhile back?
I found this old vintage dresser among my treasures and had to have it. Why?
Quite simply because the features and patina were amazing! Look at the layers of trim in this one corner! And TRY and crackle a finish like this! I fell instantly in love.
And just take a look at the hardware. Why the handles were all different is beyond me! But my goodness… could it have been any more made for the way I personally decorate?!? 🙂 Aren't they amazing?
But a dresser is only a dresser if it's just a dresser. So I had an idea. If you've been following me long enough, you know I love to mix oddities together for an interesting look.
I took one of my rusty old gates (oops sorry, this is a) headboard from my junkin' day, cleaned it up, then sprayed on a clear coat…
… then added some ivory paint on the rust, to further mimic the fading original white patchy paint patina.  Using ivory acrylic craft paint, I dabbed it on quite dry with a stencil brush. I wanted abit of lightness to tie in with the dresser.
Juuuust right! And below is how I used it.
Tadaaa! The headboard offers extra interest to this dresser, creating a unique frame around the mismatched mirror. I love how the rusty tones of the headboard tie in with the dresser hardware and mirror frame.
The top of the dresser got a clear coat (from a spray can) which brought out the original oak tone through the crackled paint surface. I love the two toned effect it has, that was achieved with no effort! The white pillowcase on the left is from my mom's stash.
This lovely teapot was my mom's wedding gift, which now offers the perfect setting for fresh flowers.
The 'torn lampshade' tutorial is HERE.
Update below:
~ Surprise themed link below! ~
 Many of you in the big Link Critique post said you preferred themed linkups. If you look below at the links, you'll see the two we normally have. PLUS a new one. This weekend it's called Dressers Dressers Dressers! because of the dresser feature of course. 🙂 
~ What will it be next week? Lampshades! ~

For the themed link,  feel free to link up an older post so you can join in! Or better yet, get to work on that lampshade this week you've wanted to tweak forever anyway. I can't wait to see what you come up with. 🙂
Let me know in comments what you think on that ever changing EXTRA themed linkup idea! Let's give it a whirl this weekend and see what happens.
~ SNS blah blah linkup rules ~
1. Please link up your intended post, NOT your blog homepage url. (post, then click the title of your post, cut and paste that url)
2. Please put a link in your post that leads back to the party so others can see what's up! (scroll button on sidebar if you wish)
 3. This party is geared for DIY type projects we can all attempt to make ourselves. Items for sale may be linked up IF your entry is posted on your blog and in tutorial style (unless making the item is self explanatory).
5. Please link projects up that are new to SNS and within 1 month old. (*the NEW 3rd themed link can be an older post) If you can't decide which category to enter yours in, please just pick ONE and go with it. It's all good!
Happy party and weekend inspiration to all!