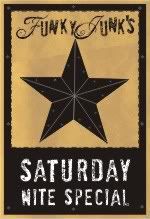 Intro
Welcome to Saturday Nite Special #29!
If you're new here, join in! There are now three categories to link to. Home Decor as well as Crafts, Sewing, Recipes, plus our new themed link! Check below for this weekend's theme.
Party starts Fri night and ends Sunday 11pm pacific, so you have all weekend to join!
I LOVE to highlight inspiring posts during the event on the sidebar, so make sure you check in several times over the weekend. You may be next. 🙂
~ This weekend's theme ~
Lampshades
This shabby little lampshade couldn't be easier to create. It'll take you just a few minutes.
I found this cute lamp at the local thrift, but the lampshade needed some work.  So I went through my white fabric stash and came up with a quick fix!
I ripped the fabric into workable strips, leaving the edges fabulously frayed, then I just hung them up along the top edge of the shade. One by one, random like. 
Careful consideration was made to not get near the bulb. 
(hot glue would be a great idea)
I then took a long strip, and tied it in one simple knot around the outside of the lampshade, near the top, hugging all the small strips in place.
And was left with a fabulously fun shabby chic to the hilt no sew no glue lampshade! It's so fast, unique and can be changed on a whim!
When illuminated, it's got an amazing layered effect. 
But I do have one tip for you if you try this project…
Spend 1 more minute on it and FINISH it! Admit it.. you would never have known. 🙂
A themed LAMPSHADE link is below! Let's see what you came up with! 🙂
Caution: can be a fire hazard if done incorrectly. Please be safe and don't allow fabric to hang freely inside shade. Please do this project at your own risk.
FJI inspired:
Where the Grass is Greener's sweet version!
Next week's themed linkup is …
~ refurbished headboards! ~
~ SNS blah blah linkup rules ~
1. Please link up your intended post, NOT your blog homepage url. (post, then click the title of your post, cut and paste that url)
2. Please put a link in your post that leads back to the party so others can see what's up! (scroll button on sidebar if you wish)
 3. This party is geared for DIY type projects we can all attempt to make ourselves. Items for sale may be linked up IF your entry is posted on your blog and in tutorial style (unless making the item is self explanatory).
5. For Home Decor and Crafts, Sewing, Cooking, please link projects up that are new to SNS and within 1 month old. The 3rd weekly themed link may have older posts and not brand new to SNS.
If you can't decide which category to enter yours in, please just pick ONE and go with it. It's all good!