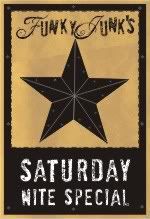 (new smaller button can be found above, under 'buttons')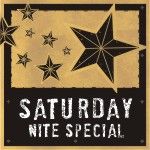 Intro
Welcome to Saturday Nite Special #32!
If you're new here, join in! There are now three categories to link to. Home Decor as well as Crafts, Sewing, Recipes, plus the themed link! Check below for this weekend's theme.
Party starts Fri night and ends Sunday 11pm pacific, so you have all weekend to join!
I LOVE to highlight inspiring posts during the event on the sidebar, so make sure you check in several times over the weekend. You may be next. 🙂
~ This weekend's themed link ~
jUnK
Why do I love junk?
Mattress spring bulletin board

I think everything in my home falls under this catagory.
Why am I so spellbound working with stuff meant to cover up, throw away or burn? Why don't I just go buy 'nice' things?
Because buying pretty off a shelf just doesn't 'rust my metal'. I flat out love to pick up hopeless wonders and make them shine in my own way. It's all in the creative process for me. It's a self challenge to see if I can pull it off and be happy with the end result.
I'm not much of a builder. (yet) So if I can find something sturdy that will stand the test of time, my framework is intact. You then simply work some magic on an existing piece and make it your own creation. If you told me to never create ever again, landfills would overflow. No. It's necessary I stay on this little mission of mine.
So, last week I challenged you:
"Got a piece of junk that you turned into something magical? And by junk I truly mean, something you never thought in a million years you could save. I wanna see a real piece that was destined for the burn pile."
Let's talk junk! What's your craziest junk project to date? Where do you find yours?  Better yet.. where do you store it until you create with it?!? Egads I'm in trouble here.
The JUNK theme is below!
~ Next weekend's themed link ~
A suggestion from SNS #31 was…
Old windows!  
We all love them and most of us have them. What have you done with an old window lately? Bring it along next weekend!

~ SNS blah blah linkup rules ~
1. Please link up your intended post, NOT your blog homepage url. (post, then click the title of your post, cut and paste that url)
2. Please put a link in your post that leads back to the party so others can see what's up! (scroll button on sidebar if you wish)
 3. This party is geared for DIY type projects we can all attempt to make ourselves. Items for sale may be linked up IF your entry is posted on your blog and in tutorial style (unless making the item is self explanatory).
5. For Home Decor and Crafts, Sewing, Cooking, please link projects up that are new to SNS and within 1 month old. The 3rd weekly themed link may have older posts and not brand new to SNS.
If you can't decide which category to enter yours in, please just pick ONE and go with it. It's all good!
Happy junkin' weekend.  🙂