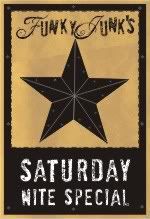 Intro
Welcome to Saturday Nite Special #49!
If you're new here, join in! There are three categories to link to. Home Decor as well as Crafts, Sewing, Recipes, plus the 3rd themed link. Check below for this weekend's theme.
Party starts Fri night and ends Sunday 11pm pacific, so you have all weekend to join!
I LOVE to highlight inspiring posts during the event on the sidebar, so make sure you check in several times over the weekend. You may be next. 🙂
~ This weekend's themed link ~

fireplaces
The elegant and unusual touch of metal kind. Aren't they pretty?
 The Jetson suspended kind. Hmmm…
The 'no toddlers allowed clean that glass' kind. Not the most practical.
The swirly whirly creative kind. Interesting, but don't ever run and fall on this one.
 The open wallet kind. (or whatever)
No matter what kind of fireplace lights your own fire, it's my realistic guess that many of you are still housing the dated brick variety.
Much like this. Hold your hand up if you have one of these. So, what can you do with them to update the look?
Paint the brick? Box them over with wood? Tile over top?
The Funky Junk floor to ceiling revamped rock kind. (link HERE)
Dan (HERE) and crew covered the existing brick with cultured stone and created a one of a kind cozy focal point, setting the stage for my entire upstairs.
(Imagination Corporation's website is HERE)
The base was covered with fibreglass reinforced concrete, hand carved and stained by Phoenix to create visual weight on the hearth.
(Stonetree Studios' website is HERE)
Over sized metal corbels were fabricated to cover over the existing brick variety.
 The massive whimsical mantle was hand carved and routered out of high density HDU board and layers of paint and glaze (by Bec and myself) were added until the board resembled the perfect tone for wood.
Resulting in an old world, funky, and unique blend of everything I love. Which makes an incredible focal point for the entire upstairs.
I LOVE my fireplace!
So, let's talk fireplaces! Do you love/hate yours? What would you LIKE to do to it? Got any tips on what worked/didn't work for others to read up on? Got a fav link (share in comments!) from elsewhere of a redo you love?


 Let's see what YOU have in this weekend's 3rd themed linkup!
 The lucky winner of the Scentsy giveaway is now posted in The Sponsor Store! 
Click HERE to see if it's you!
~ SNS blah blah linkup rules ~
1. Please link up your intended post, NOT your blog homepage url. (post, then click the title of your post, cut and paste that url)
2. Please put a link in your post that leads back to the party so others can see what's up! (buttons are in the navigation bar along the top)
 3. This party is geared for DIY type projects we can all attempt to make ourselves. Items for sale may be linked up IF your entry is posted on your blog and in tutorial style.
4. For Home Decor and Crafts, Sewing, Cooking, please link projects up that are new to SNS and within 1 month old. The 3rd weekly themed link may have older posts and not brand new to SNS.
If you can't decide which category to enter yours in, please just pick ONE and go with it. It's all good!