Welcome to Saturday Nite Special #51!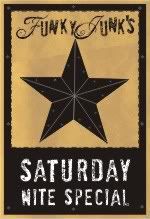 If you're new here, join in! There are three categories to link to. Home Decor as well as Crafts, Sewing, Recipes, plus the 3rd themed link up. Check below for this weekend's theme.

Party starts Fri night and ends Sunday 11pm pacific, so you have all weekend to join!
I LOVE to highlight inspiring posts during the event on the sidebar, so make sure you check in several times over the weekend. You may be next. 🙂
~ This weekend's themed link up ~
window sill decor
I have a signature style of decorating in front of windows. Can you guess what it is by this picture?
If you guessed junk, you'd only be partly right.
 And if you guessed white, colourless, wood or even weird, you're only warm. 🙂
 Give up?
Anything I put in front of windows is never solid. You can always see through them.
One of my favorite things to do in front of windows is to place something translucent on the sills.
I'm a sunshine lover, so I say, let that sun in at all costs rather than block it!
 Take note of the antique washboard. It fell down one day and the glass broke, so now it provides the perfect framework for this flower vignette with… you got it… very little light blockage.
  Although these last two pics aren't legally a 'window sill', I displayed it as such in my blog office area due to the tall narrow windows. Same theme. Let the sun shine in.
What  are others doing window sill wise? Let's check out Google…
I love elements of nature. This is so simple AND pretty.
Don't you love how the sheers frame the flowers?

I LOVE ivy wreaths! So fresh and pretty in this white kitchen.
Aren't these little lacy plants so delicate?


Amazing.
Milk bottles! How… dignified junkified. 🙂
Now… what if you don't have deep enough window sills to hold things?
Love this built in counter.


House Beautiful via Decorology
And this rustic sofa table. Gorgeous!
And one of my favorites?
Be still my heart. 🙂
 Incidentally, if you want to see one ahhhhmayzing pantry, click on that last link. Oh my word.
Let's talk window sill decor!
What's your alltime fav thing to do in front of windows?
What do you attempt to avoid?
Bring on your own window sill decor in the 3rd themed linkup below!
Theme with the most vote wins! Check back after Sun 11pm Pacific.

~ SNS blah blah linkup rules ~
1. Please link up your intended post, NOT your blog homepage url. (post, then click the title of your post, cut and paste that url)
2. Please put a link in your post that leads back to the party so others can see what's up! (buttons are in the navigation bar along the top)
 3. This party is geared for DIY type projects we can all attempt to make ourselves. Items for sale may be linked up IF your entry is posted on your blog and in tutorial style.
4. For Home Decor and Crafts, Sewing, Cooking, please link projects up that are new to SNS and within 1 month old. The 3rd weekly themed link may have older posts and not brand new to SNS.
If you can't decide which category to enter yours in, please just pick ONE and go with it. It's all good!