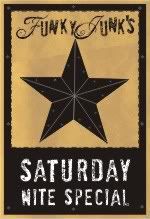 Welcome to Saturday Nite Special #61, the Christmas full home reveal edition!
If you're new here, join in! There are three categories to link to. Home Decor as well as Crafts, Sewing, Recipes, plus the 3rd themed link up. Check below for this weekend's theme.

Party starts Fri night and ends Sunday 11pm pacific, so you have all weekend to join!
I LOVE to highlight inspiring posts during the event on the sidebar, so make sure you check in several times over the weekend. You may be next. 🙂
~ your Christmas full home reveals ~

The most common comment I received during my own full home Christmas reveal was, "I like your style!"

#1. Thank-you!
#2. I wish everyone felt that way. You see, this is what I go through each time I lift a finger towards a junk artifact.
me – "Hey son, let's decorate for Christmas
son – "Yay! Just not Funky Junk! I want NORMAL like OTHER people."
Boy was he talkin' to the wrong person. 😉
This junk did not please my son.
Until it was done.
Now, if you think I have it easy because I don't have to convince a spouse that junk is the new distressed glazed heirloom white, allow me to correct you. I indeed have big time proving to do in this here house!
And should that fail…
Divert their attention to something else. A good movie on TV works wonders.

Dang! I missed this one! 🙂

My own full Christmas home reveal was HERE.
I can't wait to see yours!
How do you convince your family that JUNK is KING in decorating these days?
Do they 'let' you, or fight you?
December deals from FJI sponsors!
 Click  
~ Upcoming December Themes ~
Dec 24 – No theme. Just let'er rip! SNS will be up for those loving the extra browse, however I won't likely be highlighting or commenting. It's time for family. 🙂
Dec 31 – Share this years' Christmas story (link open until Jan 7 2011)
I hope you'll join in the fun!
Be sure to check the themed linkups master list to add your newest creations anytime.
List HERE.
~ SNS blah blah linkup rules ~
1. Please link up your intended post, NOT your blog homepage url. (post, then click the title of your post, then cut and paste that url) If your post has been deleted, please try again.

 2. Please put a link in your post (button or text) that leads back to the party so others can see what's up! (see BUTTONS label under main blog header)
 3. This party is geared for DIY type projects we can all attempt to make ourselves. Items for sale may be linked up IF your entry is posted on your blog and in tutorial style.
4. For Home Decor and Crafts, Sewing, Cooking, please link projects up that are new to SNS and/or within 1 month old.  This helps keep content fresh!
The 3rd weekly themed link may have older posts and not brand new to SNS and will remain open for your new additions at any time. Click HERE for the main list.
If you can't decide which category to enter yours in, please just pick ONE and go with it. It's all good!