Welcome to Saturday Nite Special #73!
Friends, spring break is upon us at Funky Junk headquarters. It's time for a little R and R with my son to restock and refuel the 'ol soul. My next post will likely be the next SNS unless I pull off something outstanding I have to blog about! 🙂 
Have fun at the party, and see you next weekend!
And.. thanks for 'getting it.' 🙂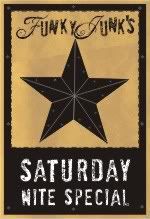 If you're new here, join in! There are three categories to link to. Home Decor as well as Crafts, Sewing, Recipes, plus the 3rd themed link up which stays open indefinitely. Check below for this weekend's theme.

Party starts Fri night and ends Sunday 11pm pacific, so you have all weekend to join!
I'll be featuring SNS highlights during the weekend on FJI Facebook, so join in and see what they're all saying about your stuff. 🙂
this weekend's theme
~ kitchen cabinet ideas ~
Flea Market Trixie goes for the open shelf concept and comes out with an absolute stunning result. 
Crisp white cabinets lighten and brighten the area, with loads of unique detail to make this kitchen one of a kind. I just adore how the dark counter tops anchor all the brightness. And isn't that floor amazing?!? Gorgeous! 
You can see the full kitchen reveal HERE.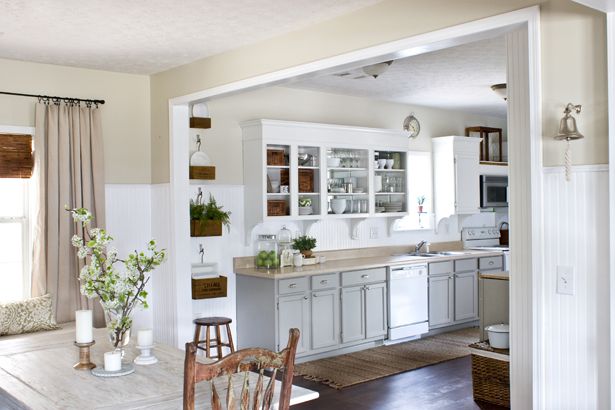 Stuck with old wooden cabs? Here's a great fix!
This gorgeous kitchen is The Lettered Cottage's most recent amazing kitchen makeover. Today's 2 toned cabs with some open concept shelving give the illusion that different cabs are indeed placed together for that fun eclectic vibe. 
You can check out the kitchen tutorial video and reveal post HERE.
These next few photos are rather daring but intriguing all the same.
The pictures below are all linked to Pinterest.
I had to include this. It's just too rustically luscious not to! 🙂
So who needs cabinets when you can have industrial shelving with the coolest metal baskets possible?
Can't decide on what kind of cabs to have? 
The eclectic look above will take care of that! 
Love all these tones together. Wonderful.
If you like rustic vintage, I gotcha covered.
Everything under the sun is put together and the outcome is a total romantic stunner. 
Those upper cabs are amazing, as is that sink. 
FUN!
And then there's the rustic crate experience. These are fabricated out of authentic crate skins. I'd love to do a reproduction of this to my garage style cabs.
Have you done anything interesting to your own kitchen cabinets?
Link it up in this weekend's 3rd themed linkup!


Just curious.. if you could have any type of kitchen cabs you desired, what would they look like?
~ next up ~

wall decor
*subject to reschedule as we go along…
Be sure to check the themed linkups master list to add your newest creations anytime. 
They're always open.
List HERE.
~ SNS blah blah linkup rules ~
 Has your link been removed? Please reread the rules and try again! 🙂
1. Please link up your intended post, NOT your blog homepage url. (post, then click the title of your post, then cut and paste that url)

 2. Please put a link in your post (button or text) that leads back to the party so others can see what's up. (see BUTTONS label under main blog header)
 3. This party is geared for DIY type projects we can all attempt to make ourselves. Items for sale may be linked up IF your entry is posted on your blog and in tutorial style.
4. For Home Decor and Crafts, Sewing, Cooking, please link projects up that are new to SNS and/or within 1 month old. Repeat linkups will be removed.
The 3rd weekly themed link may have older posts and not brand new to SNS and will remain open for your new additions at any time. Click HERE for the main list.
If you can't decide which category to enter yours in, please just pick ONE and go with it. It's all good!
 Come on over and see if we're talking about you this weekend. 🙂