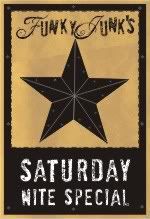 Welcome to Saturday Nite Special #87
Theme – unique lighting
This post is a review, as well as a giveaway event that is now over.
Congrats, Linda!
If you're new here, join in! There are three categories to link to. Home Decor as well as Crafts, Sewing, Recipes, plus the 3rd themed link up which stays open indefinitely. Check below for this weekend's theme.

Party starts Fri night and ends Sunday 11pm pacific, so you have all weekend to join!
I'll be featuring SNS highlights during the weekend on FJI Facebook, so join in and see what they're all saying about your stuff. 🙂
This weekend's theme:
~ 'unique' lighting ~
twig chandelier


I've been known to make the odd creative light in my time. 🙂
However I've always yearned to create a light fixture from some super cool odd thing I've found at the thrift. But to go into a store and buy the lamp components in bits and pieces from scratch? Overwhelmed from the get go! I want it easy, and to look cool. I just haven't been excited to build a light from scratch.
Until now.
Shandell's is the maker of these really cool vintage lighting kits!
We're talking cloth cords, porcelain fixtures, and the option to get vintage styled bulbs to match!
What you get


The kit includes EVERYTHING you need to make your own basic light, along with a few choices.
1. Decide on swag or pendant. $29-$39
swag – hanging light that plugs into a socket
pendant – hard wired hanging fixture
2. Choose your color of wire: red, gold, putty or brown.
3. Choose the length of your wire – 12 or 15 feet or custom. 
4. Choose BRASS or NICKLE hardware.




5. Pick your vintage styled bulb (sold separately) $18



6. And go thrifting for your kinda shade. 🙂


Feeling like a true lazy bones at this rate? Snoop around Shandell's. They make lampshades covered with vintage wallpaper like the one to the upper right, and ready to purchase vintage lights. (and so much more) They are gorgeous!
My take


I think this kit is genius. I've always loved the old vintage touch to lights and this one ticks my clock. You have the look you like and you KNOW it will be safe. And the fact that the fixture comes as a complete kit? What more could one ask for?
Although I have not used this kit before, its on it's way!  I am SO excited about this one I can barely stand it. So I'll be sure to share my own projects and all the details as soon as I can. 
I need to get junkin' for my shade! 🙂
A deal!
Dying to try out a customized kit of your own?
For the first time ever, they're on sale just for Funky Junkers!
10% off 
any of the 6 lighting kits avail!


Offer until July1st
Use code funkyjunk (no spaces) to get the deal.


A giveaway!
So, wanna win a vintage custom kit of your own complete with a vintage styled bulb?
What a question, huh?
How to enter the giveaway:
Visit Shandell's site HERE (scroll down, select SHOP)
Let us know in comments which kit out of the 6 you'd want if you won and you're in!
(1 entry)
 "Like" Shandell's on Facebook
or
follow on Twitter
and comment to enter again!
(1 entry)
Blog, Facebook or Tweet the giveaway and comment to enter again!
(1 entry)
_ _ _ _ _ _ _
Giveaway until June 27
Winner announced June 28
10% discount until July 1st
Sale and giveaway for US and Canada!
Winner must have email active in blog profile in order to win.
If you don't have a blog, please leave your email with each comment.
Winner will be drawn by random.org
_ _ _ _ _ _ _
Good luck friends!

Have you created your own unique light? 
Please share it in this weekend's 3rd themed linkup!





For more light ideas, check out my Pinterest lighting board.




And Shandell's 'vintage inspired listings.


~ next up ~

indoor elements outdoors
Have you brought items outdoors that are known to stay indoors?
Bring them along next weekend!
*the order of this list is subject to change: please check weekly for the new theme.
Be sure to check the themed linkups master list to add your newest creations anytime. 
They're always open.
List HERE.
~ SNS blah blah linkup rules ~
 1. DIY home projects only please.  Items for sale may be linked up if you show your project in tutorial form on your blog. Linkups or comments for selling items, advertising your giveaway or promoting your own link party etc. may be removed.
2. Please cut and paste the address of your post, not your home page.

3. Please link back to the party (button or text) within your post. See BUTTONS under main blog header.
4. For Home Decor and Crafts, Sewing, Cooking, please link projects up that are new to SNS and/or within 1 month old. Repeat linkups will be removed.

The themed link up may have older posts and not brand new to SNS and will remain open for your new additions at any time. Click HERE for the main list.
If you can't decide which category to enter yours in, please just pick ONE and go with it. It's all good!
 5. By linking up to SNS, you're cool with being highlighted on FJI Facebook, added to the themed linkups and for possible future features on FJI without additional permission required.
 Come on over and see if we're talking about you this weekend. 🙂
This giveaway is now closed. Thank-you for entering!