Welcome to Saturday Nite Special #95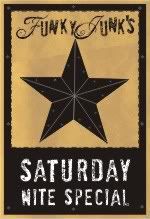 This weekend's theme:
~ Farm/western things ~

When you say farm / western to me, I immediately think of:
Barn wood doors by The Marian House Book
Three planks later, you have an outstanding feature that looks 100 years old. Makes you want to run for the hammer and nails, doesn't it?
Chippy farmtables.
This spectacular table and bench in the middle of a crisp white farm kitchen… LOVE.
This chicken feeder light is totally perfect for a farm table desk inspired office.


Barn stars


I love a distressed wooden barn star. How hard would it be to make one I wonder…


Shore




Chicken wire


Cloches made from chicken wire wearing a rusty patina add instant warmth, especially to white spaces.


Country Living


Barn windows


Gotta love an old chippy window framing something it wasn't originally meant to. 🙂


Funky Junk's picture frame ideas linkup
What have you done with a barn/farm/western theme?
Share them in this weekend's 3rd themed linkup!