Welcome to Saturday Nite Special #97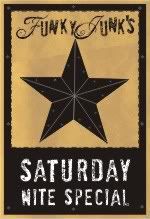 Welcome to Saturday Nite Special, the multi themed link party that starts Fri, 7pm Pacific and ends Sunday, 11 pm Pacific.
There are three categories to link to. Home Decor, Crafts, Sewing, Recipes, plus the 3rd themed link up which stays open indefinitely. Check below for this weekend's theme.
Party highlights will be shared on FJI Facebook so we hope to see you there!
This weekend's theme:
~ patriotic projects ~
Who says you have to wait for a special occasion to play with a patriotic theme? I vote to celebrate where you love every day of the week! And with these clever projects, you can.
This stunning union jack design will remain a classic forever. Isn't this sharp?


I just adore this Canadian banner made from book pages and construction paper. The rounded flags trimmed out with buttons add the perfect unique touch!
How about a little Americana on some crates, Betsy Ross style? I've always loved the circle of stars design.


By Mercantile Decor






Oh how I am in LOVE with this one! Random barn wood pieces wired together create the perfect American flag. Isn't this something?
Found at All Things Thrifty




Ahh!! Must have. This is way cute!
By Sea Debris
Visit my Pinterest Patriotic area above for more!


Have any patriotic projects you love?
Share them in this weekend's 3rd themed linkup!


~ next up: ~
license plates
Be sure to check the themed linkups master list to add your newest creations anytime. 
They're always open.
List HERE.
~ SNS blah blah linkup rules ~
 1. DIY home projects only please.  Items for sale may be linked up if you show your project in tutorial form on your blog. Linkups or comments for selling items, advertising your giveaway or promoting your own link party etc. may be removed.
2. Please cut and paste the address of your post, not your home page.

3. Please link back to the party (button or text) within your post. See BUTTONS under main blog header.
4. For Home Decor and Crafts, Sewing, Cooking, please link projects up that are new to SNS and/or within 1 month old. Repeat linkups will be removed.

The 3rd themed link up may have older posts and not brand new to SNS and will remain open for your new additions at any time. Click HERE for the main list.

If you can't decide which category to enter yours in, please just pick ONE and go with it. It's all good!
 5. By linking up to SNS, you're cool with being highlighted on FJI Facebook, added to the themed linkups and for possible future features on FJI without additional permission required.
 Come on over and see if we're talking about you this weekend. 🙂
Please select ALL the themes you'd like to see on an upcoming SNS event. Add your own too!