You've been seeing abit more of this button around blogland lately. Thanks to you for that! And I think it's simply  time to make a proper introduction!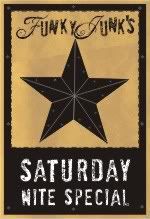 What is it?
Saturday Nite Special was created as a means of having some weekend linky party type of fun in blogland! I mean, who doesn't love a linky party? They are fun to look through, and join in so you get some nice comments coming your way!
Why the name? And why on Saturday?
I decided to call the button Saturday Nite Special  because I liked the premis of being able to play on the weekend! Party… weekend… spelled a whole lotta potential fun to me. 🙂
When does it start?**
The linky and posts will be up Friday between 10 pm and midnight  my time (BC Canada here, eh?) so all is in place for Saturday AM for you!
When does it end?
Sunday 11pm, BC Canada time. This is an all weekend party!
Every week?
If the interest continues, absolutely!
What's the theme?
For the most part, a 'DIY anything goes' theme so anyone can be involved. We'll also try themed parties from time to time, however we'll always have the anything goes element so all can join each weekend.
*Is there a prize?
This will vary.
Sometimes there will be sponsored giveaways, other times I'll feature the winner's blog, or at times, just for the fun of it with no prize.
If you would be interesting in sponsoring an SNS weekend by donating a giveaway in exchange for promotion, please contact me anytime at [email protected]. I'd love to work with you!
How does one win?
This will vary.
At times, I'll choose the most inspiring post. Other times will be by random draw. The premis will always be announced on SNS day.
Must I be a follower to play or win?**
Nope!  I'd love for you to follow only if you wish to!
Do I have to post the linky button in my post?
No, the button isn't mandatory, but I do smile when I see them. 🙂 As long as there's some kind of link from your post to the party, it's all good! The button is geared up to be a widget on a sidebar as well if you prefer.
Why did my entry possibly disappear?
Your link MUST link up to your project, not your homepage. So please just try again if you see your post missing! It's nothing personal, it's just linked up wrong.
I also ask that you link up to the party within your post somehow somewhere. Big honkin' barn star button or text, I'll leave that up to you. Just allow a lead back to the party so others can find their way back to the party to see what all the hubbub is about.  If you've forgotten a link back, I may just add it with my comment in your comments section when I pay a visit.
How to add the right url to McLinky:
Create your post, then select publish. Once published, click on the TITLE of your new post. Cut and paste that address. THAT is the url you need to load into the McLinky feature. If the end of your address reads blogspot.com/, that isn't the right url. Click on your title for the address that displays part of your title in it.
*Will you be visiting all the blogs that enter?
I always try. 🙂 But please know, if you don't see my comment on your feature, that doesn't mean I haven't been by. Comments take time, especially going through all the security measures some blogs have intact. So sometimes in order to accomplish the visits, I have to bypass commenting to speed things up. I truly wish I could visit each and every post and make a thoughtful comment each time, however my son needs me to cook and do his laundry on weekends, so everyone gets to share me. 🙂
Your turn!
So, here's where you come in. I truely invite your feedback on what you think makes a linky party carefree, fun and enjoyable.
So, is the title of the button confusing?
Do you like the feature prize best?
Is a prize desired every weekend? Some without?
Insert your question/comment here!
This party is geared for your enjoyment as much as mine. Thank-you all for your continued interest in this little blog and I hope to party with all of you for a long time to come!