Welcome to  the Workshop Series brought to you by
 Funky Junk Interiors and Mustard Seed Creations!
 Today Miss Mustard Seed is wrapping up her decorative painting seminar with a guest who will teach you some awesome painting tips! PLUS, a link party with multiple giveaways! WOW! So strut on over and see how to participate.
First, let's get started with Funky Junk's own version:
Creating your Workshop
Before and After Party

Welcome to the event where we get to help you celebrate all your hard work! First up is the link party, to link up your workshop befores and afters. After the link feature is over, you get to vote for your fav! On with the show!

How about a little recap down memory lane?
And then I have a new video for you. 🙂
Creating your Workshop
Entire series to date  HERE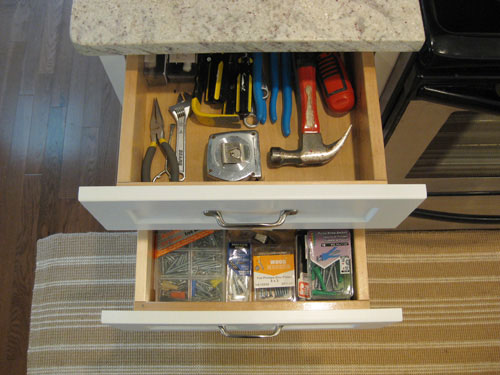 photo credit: Young House Love
– how virtually anywhere can be made into a productive workspace
– video spoof on purging
– a before of my own big mess of a garage
– how to ensure your chosen area will work best for what you need
-mini video on the pending giveaway
4. Searching for inspiration and ideas 
– where to search for inspiration
– where to shop for needed stuff
– making what you already have work
– easy makeshift tables like the ladder/board trick above
– goofy thrift store video
Loads of setups and easy to do install ideas covering:
– lighting
-storage
-hanging apparatus
6. and 7. Recap for Shopping and Installing
– with cord wrapping video
8. Before and After Party. Let's go!!!
My before and after
To watch on Vimeo's larger screen, click HERE.
I sincerely hope your workshop stays cleaner longer than mine did. 🙂
How about a giveaway?
What you ask? Hmmm…
What is something that may help further beautify your workspace?
How about some pretty new labeling? See the black number? How cute would they look tied to a basket, or around the neck of an antique jar?
I can create any sized decal of a number or letter. In pretty much any colour, size and font.
All I need from you is to know what YOU desire.
Yup. You get to choose some custom made labeling I'll create to your specs! For any room in your home!
You can choose:
text
numbers
a saying
a reversed stencil
the number tags as shown
These decals will stick directly to:
walls 
(may damage drywall upon removal)
glass
card stock
semi gloss painted wood
metal
cabinets
non silicone plastics
Who can win?
One will win by the best before and after, and one will win by an eligible random draw from comments! Yes, that's 2 draws! So EVERYONE has a chance. 🙂
Both winners can choose up to 2 different selections from the choose list. So get your designer label thinkin' caps on. It's all up to you!
How to enter
Option #1:  Before and After Entry 
Up until Sun 11pm Pacific
Enter your before and after to the link party.
Please link back to the party with the button or text. We want more voters in on this! 🙂
Option #2. Comment Entry
Up until Mon 11pm Pacific
1. If you wish to be a part of the giveaway, in comments, let me know what you'd do with the decals/labels. Only those that specify this will be entered in the draw. I'd like this to go to someone who desires it. 🙂
How to Vote
Watch for the poll!
Vote between Sun 11pm – Mon 11pm, pacific time.
 A poll will be set up on the sidebar widget AFTER the link feature has ended. Please cast your vote for your favorite! Winners will be announced Tuesday.
Please support our hard working workshop entries and leave lots of comment love. These gals (and guys?) deserve it!