Welcome to Funky Junk's Saturday Nite Special linky party! Feel free to grab the funky barn star button (coding on the right sidebar widget)  to share the fun! (this picture won't be enough unless you add your own link to it, due to 'funky junk' isn't my blog address)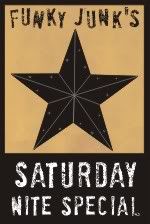 This party is about any project you are proud of. Any theme, any thing, past or present. This is a party that's geared to include everyone, no matter what you love to create!
And… there's even a prize! I'm going to offer one of you something wonderful for your blog.
I'll be visiting all the links and will select a winner. Be sure to be a follower, for if you are and you win, you'll get a full interview/feature for your blog! After I announce the 'winner', I'll be emailing you some questions so we can tap into that creative mind of yours.
So, here's my little project. Meet 'Ms. Knotty Pine But Has Potential.'
When I found this table, I wasn't sure about it. I mean, look at the lines and detail! It's gorgeous! But I felt the style was too elegant for my rustic decor. I went home and pined (pun intended!) about it, worrying someone would get 'my table.' I couldn't stand it any longer. I had to drive all the way back to get it. I paid $20 as is.
And I left it like this for the longest time ever. Until I realized, it was smack dab in the middle of my upstairs and the as is was so wrong for my house. This party was the perfect motivator to get busy.
Buh-bye knottie blonde…
Hellooooo platinum blonde! The primer goes on. Looks better already!
Primer plus dreaming… oh the possibilities here.. see the funky little carvings on the top by a child? Precious! I left them. In fact, I fell in love with all the rustic details.
Hmmm… still thinking… thinking… such a process! Nevermind.. let's finish the painting part first.
Antique white goes on. Mmmmmm… doncha love that rustic detail here?
The glaze really brought out all those great rustic features!
Add your funky junk of choice… (this will have to do.. .I'm at a workshop all weekend and have to make this quick!)
… throw on a few loose tiles you can interchange at any time… (they fit so perfect!!)
And you have yourself a merry little 'change your mind' at will coffee table! The milk crate underneath holds dvd storage.
Hmmm.. vignette needed abit of beefing up. Better!
And here is the tile-less version I had done up for Christmas.
Here is the room it sits in so you can see why I made the choices I did.  I wanted the table lighter to tie in with the sofa, however having the tile on top ties in really well with the fireplace as well as visually anchoring the table. And I'm also debating on making a large square cushion out of that burlapy cream material you saw in one pic, for tired footsies during movie hour.
This table is a keeper for those with small kiddos because of that ridge around the edge. Do you have any idea what an awesome LEGO table this baby is?!? And how that ridge traps drink spills? It's not my personal dream coffee table (still looking for an old wagon or trunk or bench) but it's a great pitstop.
I'm sharing this table makeover at A Soft Place To Land's DIY linky party, Oct 19 2009. And Reinvented's Trash to Treasure Tuesday, Oct 19 2009.
The attached linky party is now over. Let's concentrate on ASPTL and TTTT! 🙂
~ ~ ~ ~ ~ ~ ~ ~ ~ ~ ~
Now it's your turn! Link up, and remember to spread some comment love on the other's links when you can! Parties are gabfests doncha know. 🙂 Have a blast, and good luck!
To link up:
1. Make your post, then once made, click on the TITLE of your post for the correct address. Links simply brought back to your generic blog address will be deleted so if you link is gone, please try again!
2. Please link back to this party within your post by either the linky button or words so others can join in too!
I'm giddy. I wana see what you're all up to. 🙂
(link code no longer available)