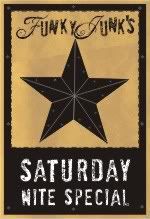 Welcome to Saturday Nite Special #107, the multi themed link party! 
* Home Decor
 * Crafts, / Sewing / Recipes
* Theme of the week
Every Fri 7pm  to Sunday 11 pm Pacific.
 Banners, Pennants, Buntings
What an amazingly perfect backdrop for this heartwarming message.
Just, wow. So elegant. The 3d elements just make them pop!
Love me some distressed bead board, especially as a pennant! Fab idea.
Beautiful simplicity!
Isn't the fullness just stunning? Puts streamers for a party to shame.
mine


Predictably… funky. 🙂
No matter what you call them, they are so FUN to look at and create!
Do you have a a similar project to share?
Show us what you did with yours in this weekend's 3rd themed linkup!


Upcoming themes and dates:
Nov 19 – things you can't live without (gift ideas)
Nov 26 – handmade gifts
Nov 26 – burlap inspired Christmas decor
Dec 3 – Christmas mantels and stockings
Dec 10 – nature / rustic inspired Christmas decor
Dec 17 – handmade ornaments
Dec 24 – Christmas Home Tours
Dec 31 – Your Christmas stories
Some related posts you may enjoy:


Master theme linkup list – add yours any time!
SNS Rockstars (you!) on Pinterest
How to link up to a link party
~ SNS blah blah linkup rules ~
 1. DIY home projects only pretty please. Items for sale must be in tutorial form on your blog.
2. Please link back to the party (text or button) within your post. See BUTTONS under main blog header.
3. Only projects new to SNS please. The themed linkup is an exception. Repeats will be deleted.
4. By linking up here, you're cool with me featuring you with no additional permission required. Cuz I wanna make you a star. 🙂
Join us on Facebook this weekend for party highlights!