Welcome to The Colour Challenge linkup!
I admit, my own colour additions are small and simple. I simply didn't have time to actually paint something big, plus I'm still feeling my way around vibrant doses of all things fun, so I made my changes easy.
The muted tones of nature added a whole different flavour to this little rustic vignette. I LOVE it now!
 The pretty aqua basket was my mom's.
It's simple, provides an awesome function, and serves as a gentle reminder of one of my best friends.
Next up, the main bath got hit. Pinky swear, I did NOT remove colour in order to get this colourless pic. 🙂
A  beautiful hand done original painting by The Old Post Road  steals the show in this little bathroom corner! A simple crate becomes the perfect rustic frame to accompany a picture holding alot of deep meaning for me.
Have you visited The Old Post Road's Etsy shop before? Trish's work is so bright and cheerful! And I can vouch it's even prettier in person. 🙂
Nature helped me out next.
I realize the colour you are seeing here is very subtle. Baby steps, people. 🙂 But even the tiniest bit of colour made a big impact in these zones. When more time is on my side, I can't WAIT to push this colour thing a little further!
Ok, here's one more. My son and I escaped this weekend to a lakeside resort as part of a contest win I had. (I'll be sharing the details soon!) I shot this picture just today at Harrison Hot Springs, BC Canada. Doesn't the colour simply complete the picture here?
Inspire me to really get it, my colour loving friends!
3000 Followers Event update
This nearly concludes this little party. NEARLY. 🙂 There is a junk giveaway that will transpire soon, as well as other possible random surprises that may come up in the mix over the short term as well. So stay tuned! And thanks for playing along!
The Colour Challenge Linkup
1. Find or paint something in a fun colour., then stage it.
2. Show your before and after in your post, then link up! 
3. Feel free to share an older link if you desire. But if you can, try for a new project! This one's all about trying something new to broaden your own horizons.
Link up will be open for 1 week so keep checking back for new linkups!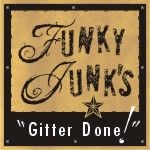 This Wednesday! Are you ready?
(Last event HERE)
 Care to vote? Check out One Project Closer to vote for the best before and after!  I'm in the running too with my crazy crate stairs!



link HERE