I have the chance to do a little creating for HGTV.com. They gave me a theme to work with, so I've been playing in my spare time to whip up something new for them.
And because this is a Blog to Biz series, I'll confess I'm not compensated for this. 
So why do it?
Because one day I hope to be compensated somehow someway, so I consider this my resume. 🙂 And I love working with them!
HGTV.com does call me from time to time when they spot something on my blog they desire to feature and I love the relationship we have.
There's never even a guarantee something will be used, but some generally are so it's worth it to try.  So off we go!
Staging is one of my fav things to do. I love creating brand new takes on traditional ideas.
I liken it to pulling out all your toys and playing. 🙂
Playing playing playing… love how these hydrangeas dried the perfect tone for the aqua jars.
Can you guess what the theme is?
So anyway, let's learn something while we're at it.
My top 5 photo tips


1. Photo Edit


I like using Picasa the most for the blog, but will at times play in Photoshop Elements if submitting for mags. Elements is a price efficient and easier to use version of Photoshop so it's a very worthwhile investment if you're newish at all this.
In Picasa, I generally:
sharpen
lighten
play with the saturation feature (indoors I generally remove, outdoors I increase)
deepen
add a slight blue gradient to outdoor sky photos
2. Take LOTS of shots
Taking various angles of any given angle offers you more chances for the perfect shot. Just keep working that camera until you've exhausted all ideas possible.
And know… I delete MANY. It takes oodles of shots to land just a few good ones so don't be camera shy on this one. Digital is free to process so no holding back!
before
after


3. Slightly airbrush skin
Whenever I take a closeup skin shot, I ever so gently airbrush it in Picnik (found inside Picasa). Just know when to stop otherwise it'll look like… someone airbrushed you. 🙂
Now know, it's not that I'm trying to be super vane or anythingl. If you submit online or to mags, you want the potential 'blow ups' to look nice, not all… whatever. Ya know?
 Others add lemons to their vases… so I added some clothespins and raffia into the water just for a fun twist. 🙂
4. A covered patio offers awesome diffused light
Taking shots on my covered patio offers the best light. It's diffused and generally always weather safe. However I'll totally admit if it were sunny the day I took these photos, they'd turn out a little crisper. (you'll see a sample below) Weather plays a huge part when you shoot on (ahem) automatic it seems. 🙂
5. A brighter day makes for better pics
Well look who joined me…
Take a look at this photo. It's taken on that somewhat gloomy overcast day. 
FYI: I didn't add a blue sky gradient to this one because of the patio roof being present, otherwise I would have. White skies tend to wash out a photo.
Here's a shot on a slightly brighter day. There are more highlights on Teddy's fur and the image is also sharper.
But my kitten always looks good in my eyes regardless. 🙂
Days with better light ALWAYS translate to better photos, even if outdoors. The trick is to ensure the light is diffused and not direct.
Anyway, I'll be doing more vignettes over the next couple weeks so I'll be sure to share some unique ideas when they're done. Cuz I wanna add to this list. 🙂
My own HGTV features to date: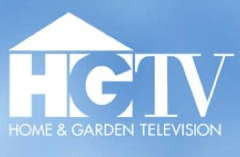 trash to treasure features
headboard features
Christmas tree features
And on
Day 6.
.. I'm going to brave up and make a BIG announcement. Well, it's BIG for me anyway. And I'm putting this in here tonite so I don't chicken out and let you down therefore letting myself down.
See you tomorrow…. unless I run back into hiding again… 🙂
This just in! Wanna hint? Go read my instalment on Brooke's blog today. Her topic is about making money on one's blog. Way perfect…. You can read that HERE.
All 31 Day posts to date are HERE.
Visit Day One for each listing HERE.